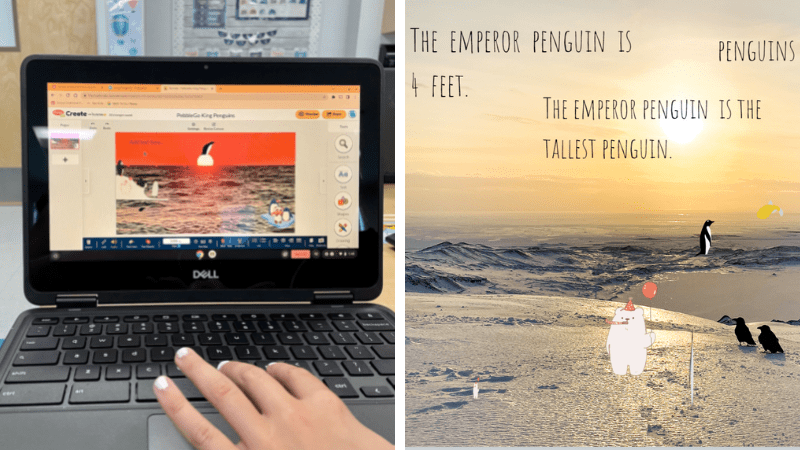 I have been using PebbleGo
with my students as a research tool for written reports for years. I love how
age-appropriate and kid-friendly it is. So when I heard that they added a digital workspace feature
to the program, I was excited to try it. I discovered that besides doing research independently with
PebbleGo, now my young students can also showcase what they've learned in ways that make them proud
and confident.
Young kids can use this creative sharing tool right away.
In the past, I had my students experiment with the usual slide-presentation programs that older
students and adults use regularly to share information. However, I found it to be an exhausting
process that often caused frustration and tears for my second graders (not to mention me, as I
frantically ran around the room trying to help everyone).
PebbleGo Create embeds images, backgrounds, and stickers for easy searching for you. Students don't
have to look for these items on a web browser and figure out how to insert them. There's no
confusing downloading and uploading of items into the slides either. There is a text box feature and
a drawing tool to let creativity flow. My students love the section with animated images!
Giving kids a template saves time.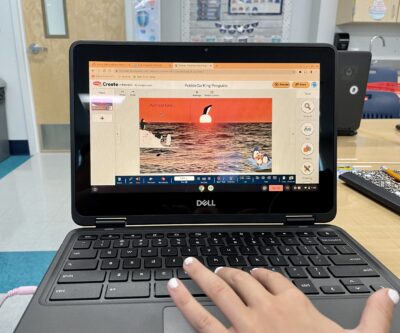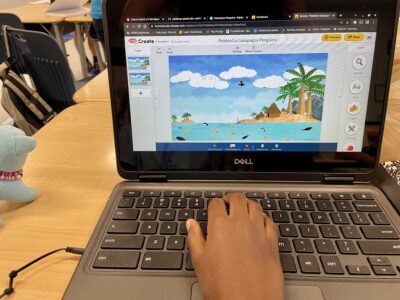 Our first unit in our reading series focuses on animal habitats. Usually, I have students use
PebbleGo to research animals and their environments, write about what they learned on paper, and
draw the animal in its habitat. This time around, I decided to have them use digital workspaces to
show what they learned.
We had just read about the emperor penguin together during shared reading, so I used that topic for a
quick demonstration. My students were already familiar with the PebbleGo research feature, and we
easily found information together on this fascinating bird. I then went to PebbleGo Create, where I
started a new Buncee, and showed them the basics. A Buncee is the name of the digital workspace
where students create their slides. They were very excited about being able to make their own
Buncees!
Kids can show what they've learned in ways that make sense to them.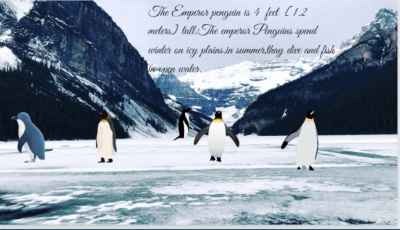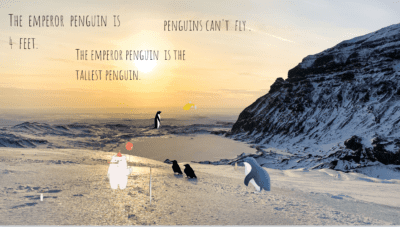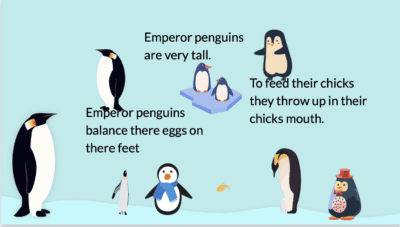 I gave my students time to experiment with their own Buncees on the emperor penguin. They really took
off with it and were soon ready to choose another animal to research and show off what they learned.
I saw there were 16 other types of penguins on PebbleGo, so I had the students explore them and pick
a favorite penguin for their next Buncee. They found further information on their subjects using the
PebbleGo e-books related to their penguin of choice.
For our third and final Buncee, each student got to research an animal of their choosing. My only
rule was to choose an animal living in a habitat other than the Arctic so they could showcase one of
the many other habitats we studied.
Young students can discover new ways to share when they see their peers' projects.

My students could not wait to share their Buncees with the world. I gave them time to walk around the
room with their laptops to share their projects with one another. And since I have access to all of
their accounts as the class administrator, I was also able to project each child's creation onto my
interactive whiteboard. They then accessed the program at home to show off to their parents, who
gave me fantastic feedback.
The takeaway from using PebbleGo Create?
Our first few digital research projects using PebbleGo were a huge success. Even my reluctant workers
were excited to use digital workspaces to show what they learned. I will be incorporating more
assignments like this all year long, wherever possible!
Ready to try PebbleGo Create digital workspaces with your students?
Learn
More About PebbleGo Create