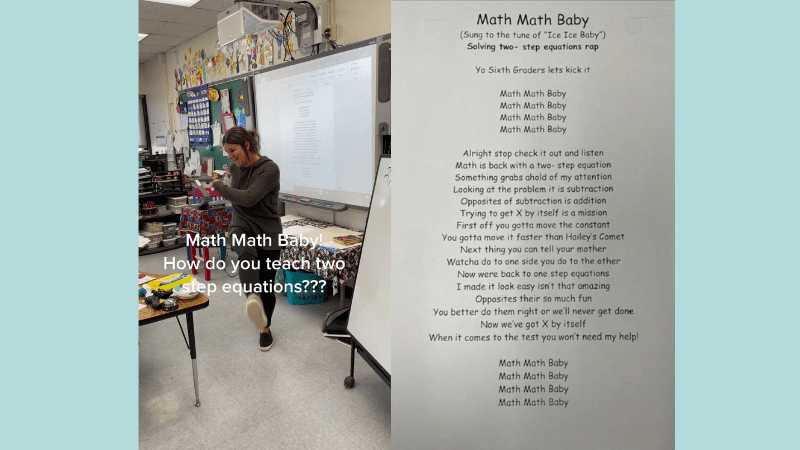 A teacher from Buffalo, New York, created an epic math rap to the tune of "Ice, Ice, Baby," and we are loving it! To teach students how to solve a two-step equation, sixth grade teacher Kristie sings, "Trying to get to X by itself is the mission. First off you gotta move the constant." Students sing "math, math, baby" in the background as this awesome lesson plays out.
Kristie replied to a comment on the viral video saying "This is just the hook to my lesson to get them excited about learning equations!"
Check out Kristie's catchy equation rap yourself:
What a fun way to mix up math class! Imagine your students recalling this awesome song when solving their next equation. Equation fundamentals included in the rap like, "whatcha do to one side you do to the other," are sure to stick in the minds of students. Kristie even shared all the lyrics to the rap on TikTok.
Kristie's classroom raps don't stop with equations. Check out lyrics to "Push It" by Salt-N-Pepa teaching about ratios. Plus, Kristie sings about algebraic expressions to the tune of "What Does The Fox Say?"
Would you try a math rap in your classroom? Or do you save your rapping for the car and shower? 😉 We'd love to hear what you think in the comments.