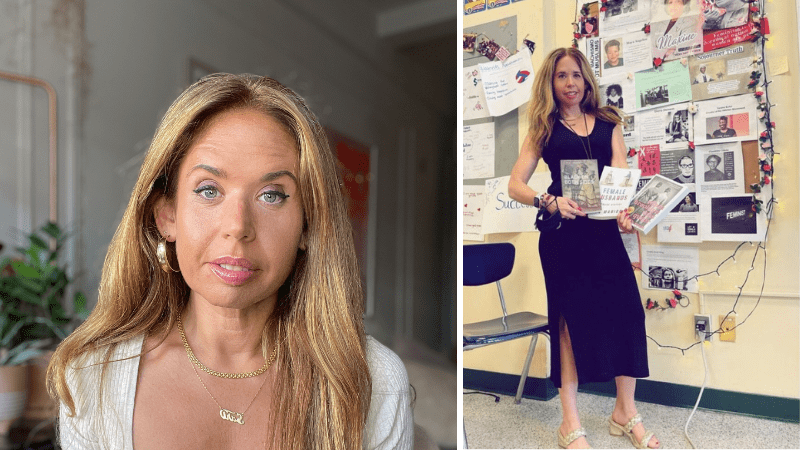 New York City public school teacher Sari Beth Rosenberg is a force. This 20-year veteran couples her passion for education with her prowess in advocacy. In addition to teaching U.S. History, Rosenberg serves as a senior advisor for Voters of Tomorrow, hosts the PBS NewsHour Classroom Educator Zoom series, hosts her school's feminist club (The Feminist Eagles), and has joined forces with fellow educators Abbey Clements and Sarah Lerner to found Teachers Unify To End Gun Violence. As if all that weren't enough to keep her busy, Rosenberg is also a passionate advocate for her fellow teachers and her students as well. We caught up with Sari the other night to chat about what it's like in her dynamic and engaging classroom.
What's your favorite part of teaching?
My favorite part about teaching is providing my students with the skills and content to better understand current events. My favorite feedback from former students is when they tell me they always think of my history class when they pay attention to the news and the current political, economic, and social landscape in America and the world.
If you could change anything about teaching, what would it be?
That people would stop demonizing teachers and blaming them for all of society's ills. I would also make it so that people start viewing teachers as the professionals they are, who dedicated themselves to educating young people and equipping them with the tools to become empathetic humans and critical thinkers.
What do you wish people knew about you and/or your students?
I wish people would stop evaluating students and teachers based on standardized test scores. I wish we could create a more inclusive education system that makes every single child excited to learn and not feel alienated from the content. I also wish people knew that young people can handle complexity and we are not doing them any favors by banning books and whitewashing the curriculum.
What's something unique about your classroom or your teaching?
Since 2015, I've been an advisor in our intersectional feminist club called the Feminist Eagles. It has helped me get to know my students in ways that do not happen during class. My experiences advising and attending our feminist club for the past 7 years (even online during the pandemic!) have informed my teaching and my view of the world and society. I spend most of the time at the club just listening to students, and it taught me to listen more and at least try to talk less as a teacher in the classroom as well.
Do you know a great teacher to feature for In My Classroom? Let us know in the comments or email Mark at [email protected].
Looking for more articles like this? Subscribe to our newsletters.