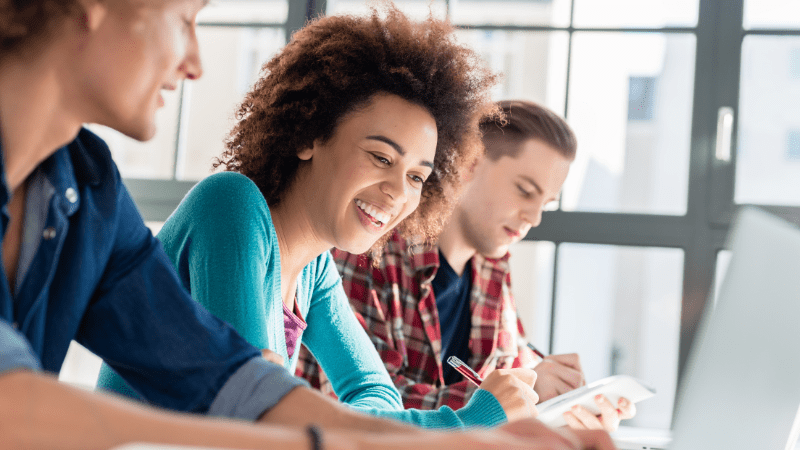 With the cost of higher education skyrocketing in the last few decades, it's no surprise that many students seek out scholarships to help cover tuition. As a result, it's a very competitive endeavor, which is why students need to find ways to stand out. We've put together this resource to help write a scholarship essay that will get the application committee's attention.

How To Find Scholarships
Many students know that they want to apply for scholarships but don't know where to find them. Honestly, this can be the most difficult and intimidating part of the process for students! Here are some suggestions for where to start. 
Ask a Guidance Counselor
One of the best resources for high school students is their guidance counselor. They are prepared to help students make academic and career plans and should be aware of scholarship opportunities to align with your needs and goals. 
Talk to the College or University
Already have a college or university picked out? Reach out to the school's financial aid department. In addition to the many scholarships you can find online, they may offer information about funding offered directly through the school. 
Submit a FAFSA Application
Even if a student isn't planning to accept student loans, they should definitely consider completing a Free Application for Federal Student Aid (FAFSA). Not only will the resulting report inform them of any financial assistance for which they qualify, but many scholarship committees require applicants to submit a FAFSA. 
Search Scholarship Websites
There are many scholarship websites where students can find awards and applications. Sites such as Scholarships.com and Scholarship 360 allow you to use filters to narrow down your search results based on your needs and interests. 
We've also put together the following guides:
Do an Internet Search
Head to a search engine, social media platform, or sites like Reddit to look for scholarships. You can even create posts inviting other users to share suggestions.
Ask an Employer
Some workplaces offer tuition benefits or other financial assistance for higher education. If a student is employed, it's an option to reach out to someone in the HR department to see if they offer any programs or scholarships. 
The Dos and Don'ts of Writing a Scholarship Essay
Do: Know the Rules
The most important thing anyone can do before writing a scholarship essay is this: Read all of the rules and guidelines and then reread them! Students can even ask someone else to read them too, to make sure they fully understand what they need to do. Failing to follow the rules is one of the main reasons why students are unsuccessful in getting scholarships. 
Do: Set Aside Plenty of Time
Start working on scholarship essays right away. Do not wait until a week (or day!) before the deadline. This gives students time to write several drafts of the essay if needed. Also, you never know when a technology-related issue might strike, so having a little extra time can save you from disaster. 
Do: Research the Scholarship Provider
Dig deep when applying for a scholarship. Find out who is funding the award and spend some time researching the provider. Do they have a vision or mission statement? Do they support any specific causes or types of students? Is there any way that applicants can make themselves more attractive candidates for the specific audience? Students should use this information to their advantage! 
Do: Brainstorm
Students should take some time to think about what they've learned about the scholarship essay guidelines and the provider. Then, brainstorm about what they want to say and share and why. Here are some questions to ask as they pertain to education and career goals:
Who are you? Think of yourself but also your background.

What makes you who you are?

What have you done?

What do you want to do?

How are you going to get there?

Why do you need a scholarship?

How will it make a difference?

Are you a first-generation college student?

Do you have any unique qualities or needs?

What makes you proud?

What lessons have you learned?
These are heavy questions, but finding the answers to at least some of them will help provide the substance needed to write a truly effective scholarship essay. 
Do: Find Ways To Stand Out
Many, many students are applying for scholarships. They have to find a way to stand out from the rest. Students should think of the things they learned when they researched the scholarship provider. Are there any ways they can appeal to that audience? If so, focus on those areas. 
Do: Be Honest
Do not lie on a scholarship application. Let's say that again: Do not lie on a scholarship application. Students should remind themselves that they are worthy on their own. If an applicant is discovered to be dishonest, it can really hurt them in the long run. 
Do: Stay on Topic
When reading the guidelines for the scholarship and doing brainstorming, be sure to keep the topic of the essay in mind. Everything students share and communicate should be related to the topic. 
Do: Be Professional
Students should use their very best skills when writing a scholarship essay. They should not use slang, casual language, unconventional fonts, emojis, or texting abbreviations. 
Do: Proofread and Edit Multiple Times
It's a good idea to prepare to write this essay at least three times. First, there's a rough draft that should be carefully proofread. Students can ask a teacher or other professional to also look at their paper. Then students should repeat this process once or twice more until they're happy with the results. They shouldn't just write it and submit it all at once! 
Don't: Brag
While students want to highlight their strengths and accomplishments, they should not brag. They also don't want to put down other candidates or people to make themselves look good. Tell a story without embellishments. 
Don't: Reuse a Scholarship Essay
Students put a lot of effort into writing scholarship essays, but please don't reuse them! 
Scholarship Essay Sample Outline
Ready to get started? Having a solid outline provides a road map for the journey. Here are some suggestions for making it easier to write a scholarship essay! 
Introduction
Students should explain who they are and try to make it engaging. Hook readers by sharing a few details that will be elaborated on in the body of the essay. 
Educational and Career Goals
Students should share what they want to study and hope to gain by getting an education, as well as how it will prepare them for their future career. They should be passionate! 
Who Are You?
Student should briefly explain their background, which can include details about family, personal values, and how they got to where they are today. 
Why Are You a Good Candidate for the Scholarship?
This is where students need to really think about what they learned about the scholarship provider. What are they looking for in a candidate? Students should do their best to not only shine as a good student and leader, but also find solid ways to connect with the scholarship provider's mission. After including some teasers or breadcrumbs in the introduction to hook the reader, this is a good place to share the rest of the story. 
Conclusion
To wrap up a scholarship essay, students should reiterate their commitment to their education and career. Restate how the story shared demonstrates a readiness for college and how winning the scholarship can help the applicant follow their dreams. Best of luck!