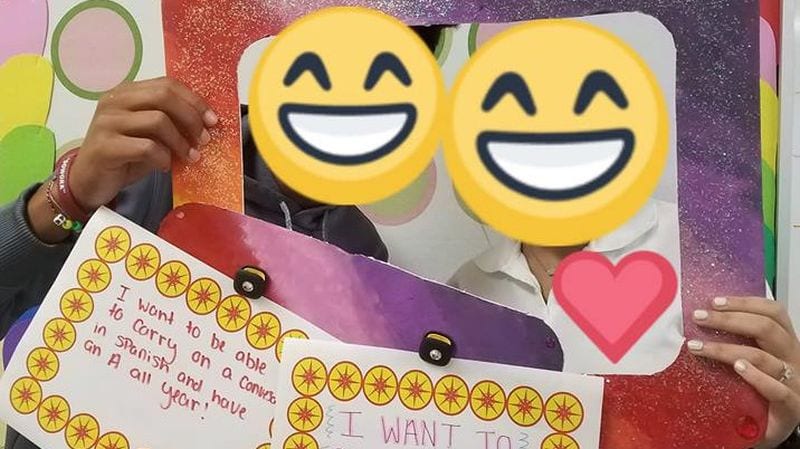 We asked our Facebook followers to share their first-day-of-school traditions and activities. Here are our favorites along with a few more we've picked up along the way.
1. Take a selfie.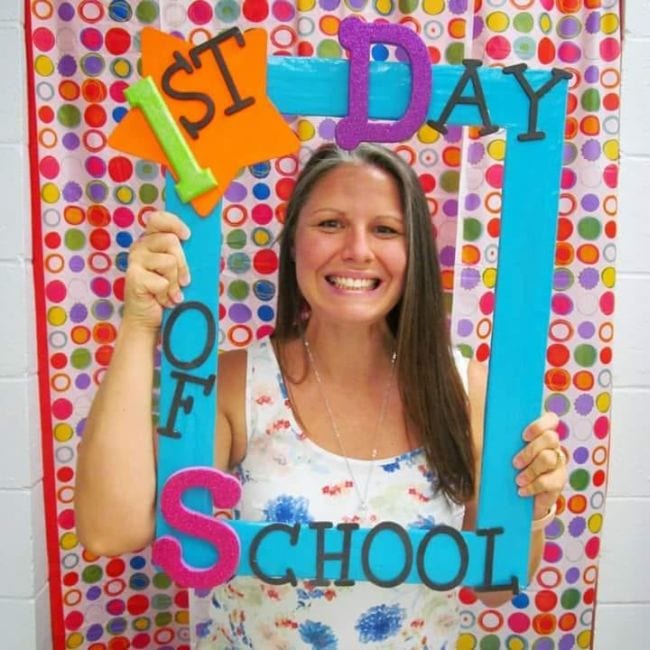 Photo credit: Danielle G.
Start the year by taking a selfie with each student. Send them home to parents or print and post them on a classroom wall. Personalize your first-day-of-school selfies with a colorful frame or background and have kids display their goals for the year, like Leida H. does. (Make sure your school policy allows you to take photos before trying this one.)
2. Draw selfie portraits.
If your school doesn't allow photos, or you just want to encourage creativity, have students draw a selfie instead. Iva C. says, "I had my second graders draw a picture of themselves, head to toe. I saved them, and the last week of school did it again. Fun to compare! The first one would give me some insight into my new class, and the last one showed how they had grown during the year. They put their printed name on the first one and cursive on the last. It's fun to hear their reactions when they see both self portraits in front of them. Simple, fun, and informative!"
3. Ring the bell.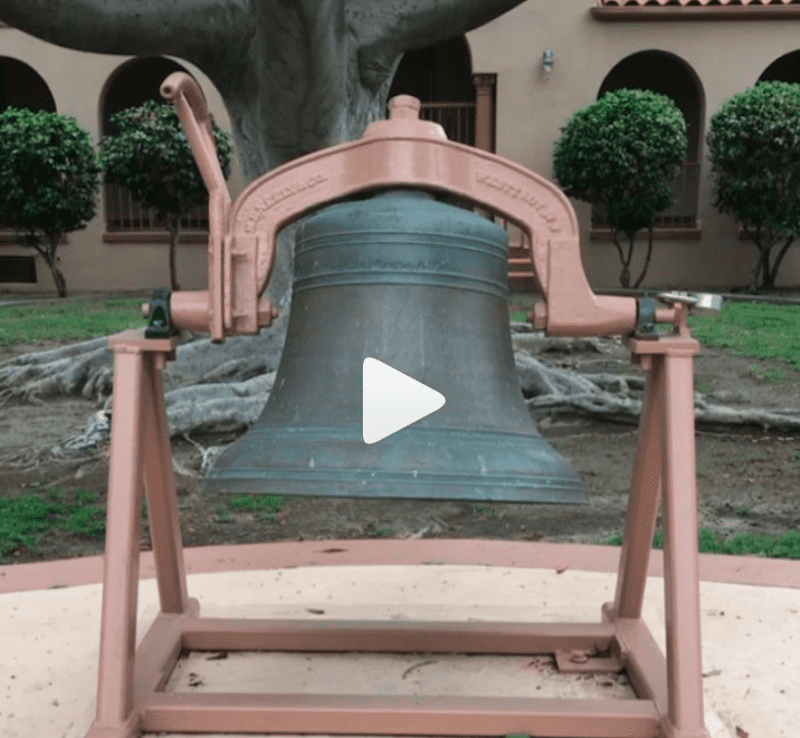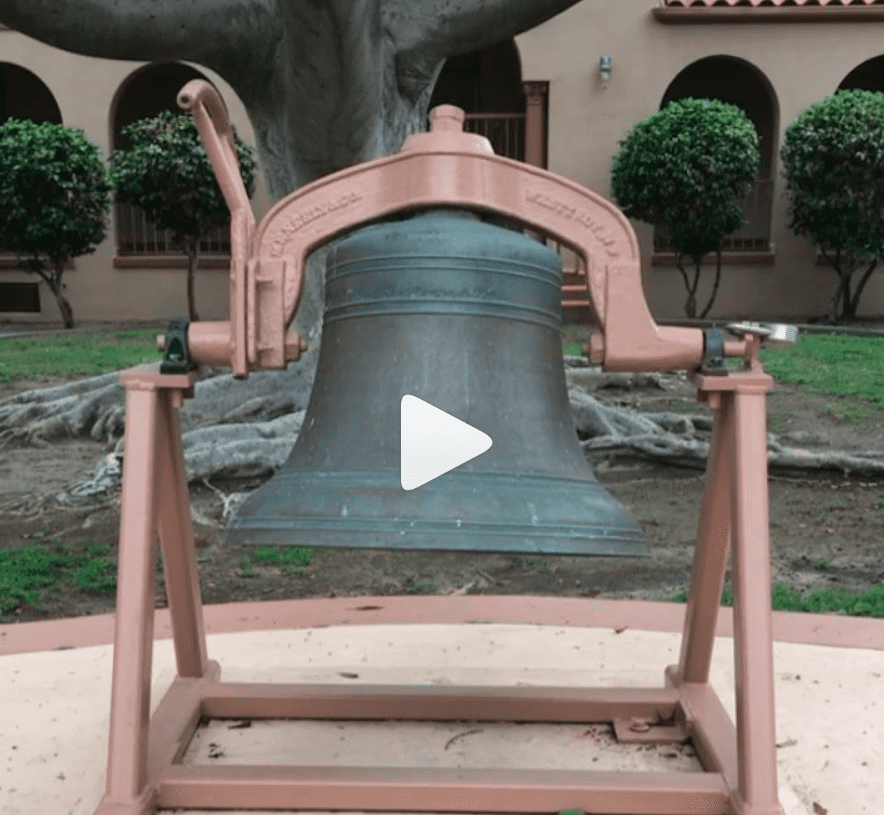 We love this first-day-of-school tradition from Gallatin Elementary, where teachers ring a giant bell to start the year. Your school may not have a bell of this size, but a smaller one would be fun too!
4. Write anonymous notes.
Tackle the jitters by having students write down something that makes them nervous about starting school—no names! Then put all the answers together in a pile and read them one at a time. The kids will likely be surprised at how many answers are similar.
5. Learn about them.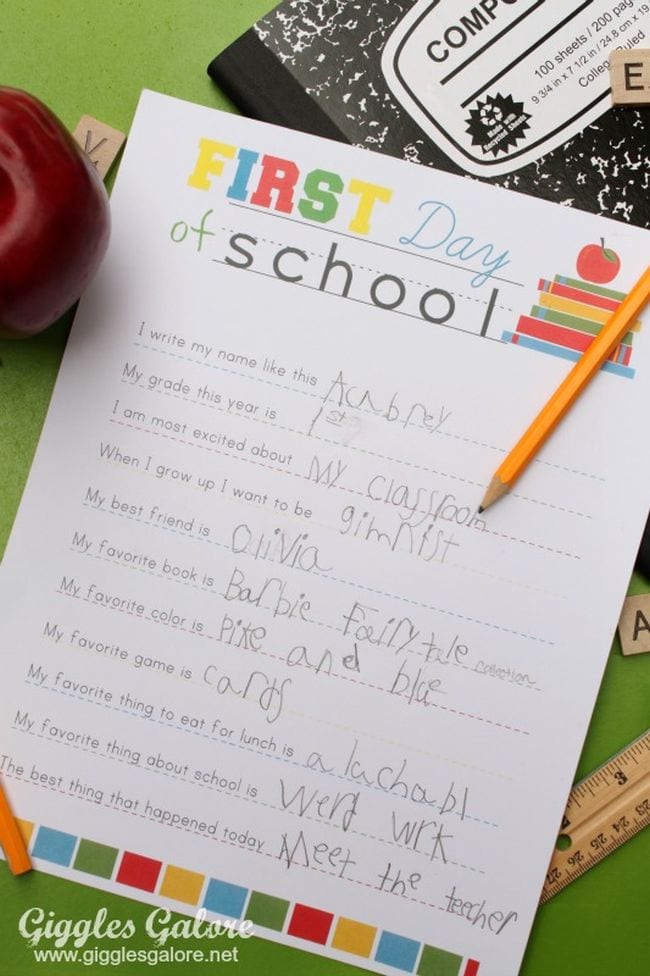 Source: Giggles Galore
Getting to know your new students is an important way to prepare for a successful year. Grab a free printable interview sheet at the link above, pair students, and have them introduce each other to the class. Or try this from Marge G: "I ask them to write a letter introducing themselves to me, telling me what they want me to know about them." Tip: Hang onto these and have students repeat the exercise on the last day of school. Then compare their answers!
6. Tell them about you.
Kids are just as curious about their teachers as you are about them. "I have a slide show that introduces myself to the kids. I show them my family, my pets, and my hobbies and let them know who I am. Hopefully that makes me more 'human' to them," shares Marge G., who teaches middle school. Melissa K. does this too, but at the end of the first week, she has a competition (with prizes) to see who remembers the most about her.
Slide shows aren't the only option. "I give them a multiple-choice quiz about me. They laugh through the silly choices, and it beats standing in front droning on about myself," says Joyce D.
7. Make a time capsule.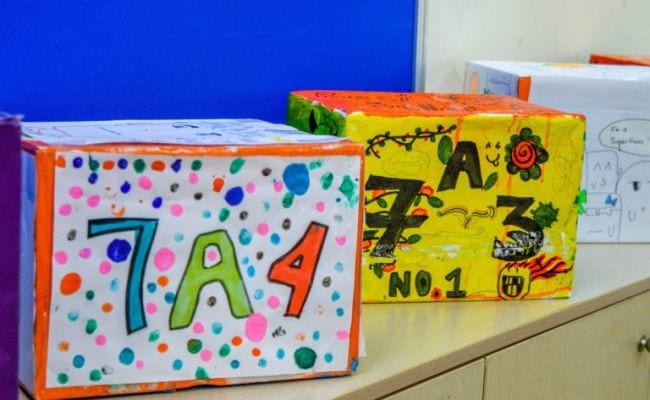 Photo credit: English Teaching 101
The possibilities for a first-day-of-school time capsule are endless! Photos, handprints, notes, newspaper articles, surveys … every class will come up with something different. Display them on a shelf to be opened on the last day of the school year.
8. Share some advice.
You'll have to plan ahead for this one, but it'll be worth it. "At the end of each year, I have my students write advice for future students to be successful in my class," explains Melissa K. "On the first day of school, I share the advice the previous year's students gave. The new students love it. Some of the advice is pretty funny!"
9. Snap a group photo.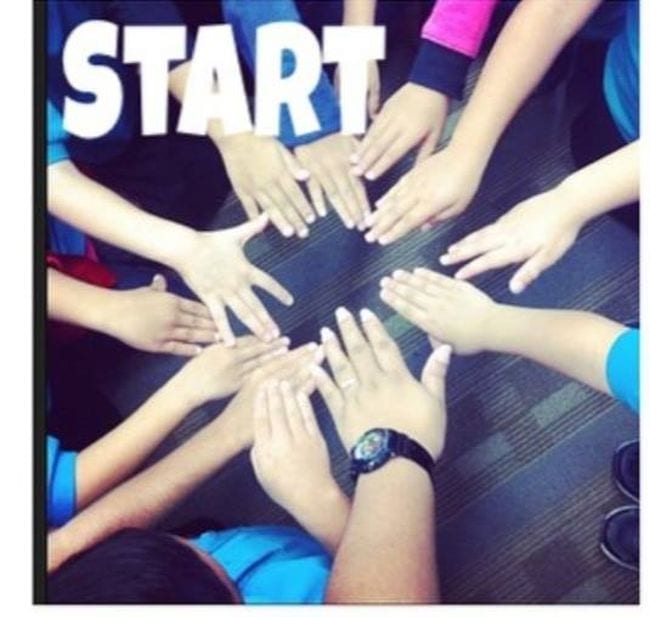 Rhea V. likes to gather the class for a group photo "to show we are a family and are each other's support on the campus." It doesn't have to be a traditional photo. Choose a pose together that represents your students and their goals for the year.
10. Hold a scavenger hunt.
This is a fun and interactive way to introduce kids to their new classroom or even their first year in a new school. Create a list of items to find or places to visit and send them off in pairs or groups. That way, they'll get to know each other at the same time. Tip: Instead of collecting items, have them grab a different sticker or stamp at each location to prove they've been there.
11. Read a book.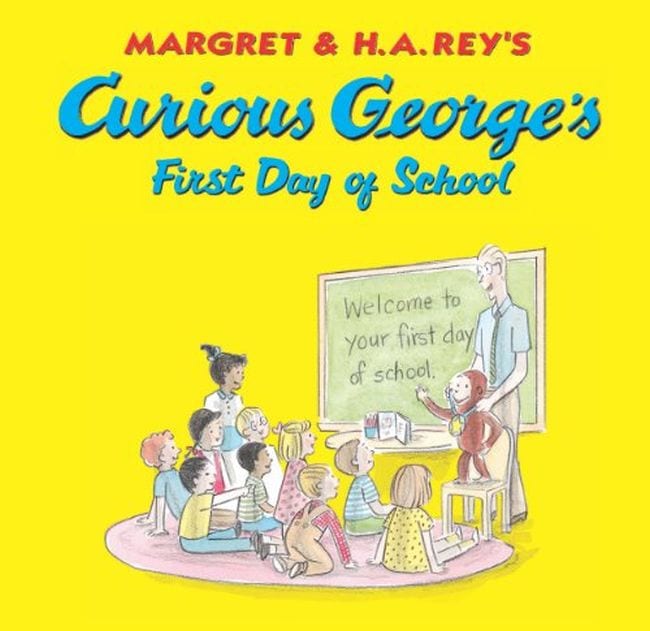 There are plenty of terrific reads that are perfect for the first day of school. "My first grade class is monkey-themed, so we read Curious George's First Day of School," notes Angela O. "George tries to paint but makes a mess. We do our own painting and hopefully it's mess free!" Find more back-to-school books here.
12. Create a measuring wall.
Designate one section of your room to be the measuring wall. Mark all the students' heights on the first day of school. Use a giant sheet of paper for this—just tape it to the wall. Then roll it up and put it away until it's time to compare at the end of the year.
13. Build a birthday board.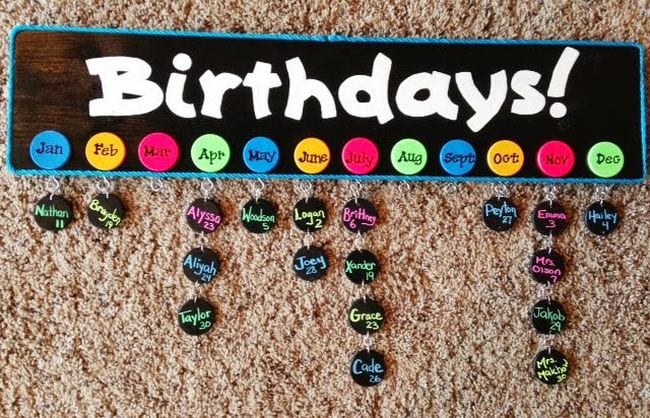 Source: Digital Meanderings
"My birthday is usually on the first day of school," says Jen C. "So I always do a lesson about our birthday board, take their pics, and share a special goodie with them. It's always a hit because kids love to talk about parties, presents, celebrations, etc., and we get to know each other."
14. Pick a new name.
This one is popular in foreign language classes. "I taught Spanish, and each student would get a Spanish name, hopefully their English equivalent," Neil F. explains. "Then, I would 'baptize' each one by blowing bubbles on them until they popped. Silly, but they loved it!"
15. Decorate the playground.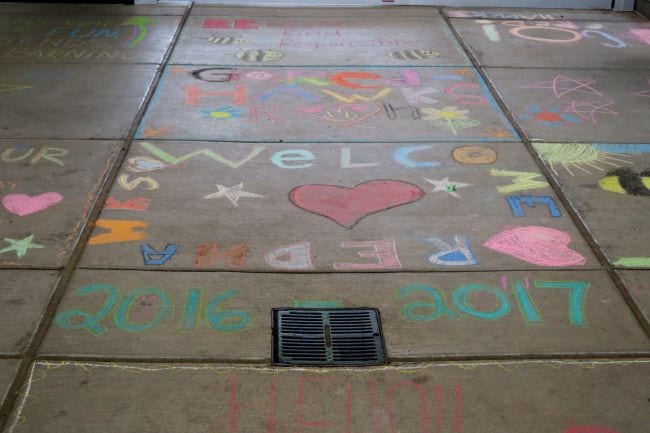 Photo credit: My Creative Life
Fill the playground or sidewalk—wherever students gather on the way into school—with colorful and inspirational art. At Megan W.'s school "the teachers all go outside before the students arrive and use chalk to label the playground with where each class lines up. Then we write inspirational messages all over the playground, like 'Welcome!' and 'You Rock" and 'Be Kind.'"
16. Film a video diary.
You don't need a fancy video camera for this—just use the camera on your phone or tablet. Some kids might be shy, so try putting them in groups. Then go around and have each group introduce a different section of the classroom. The kids will love watching this later in the year!
17. Act out skits.
Nick P. teaches kindergarten and has his kids create and act out skits about appropriate and inappropriate behavior in the classroom. "They get really into it, and it makes learning the rules fun!"
18. Walk the red carpet.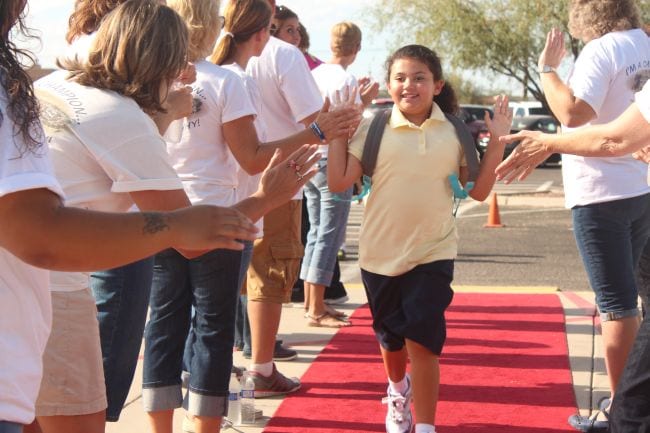 Photo credit: TCD Charter School
At Katie S.'s school, the teachers line up on either side of a red carpet to welcome each student in style, "clapping and cheering as freshman enter the building for the first time. The ninth graders are mostly embarrassed, but it's really special. I love that the first time they see the staff it's us happy to see them and already applauding them!"
19. Craft a comic strip.
Break in those new boxes of crayons and colored pencils! This is an excellent way to help kids tell parents the story of their first day of school. Print out a comic-book template, then have kids illustrate what they did throughout the day. Send it home to show parents how their little one did the first day back.
20. Make them feel welcome.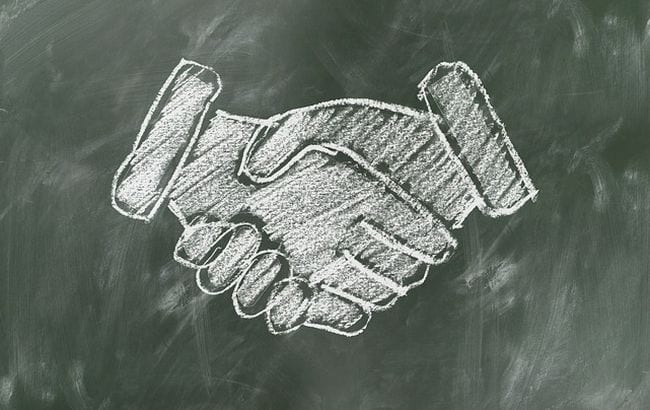 In the end, most kids just want to know that their teacher is glad to see them. Rob H. keeps it simple: "I shake every pupil's hand, welcome them, repeating their name to the class, and share with them that I look forward to working with them, with a big smile."
What are you favorite first-day-of-school traditions? Come and share in our WeAreTeachers HELPLINE group on Facebook!
Plus, check out these great picture books to read during the first weeks of school.