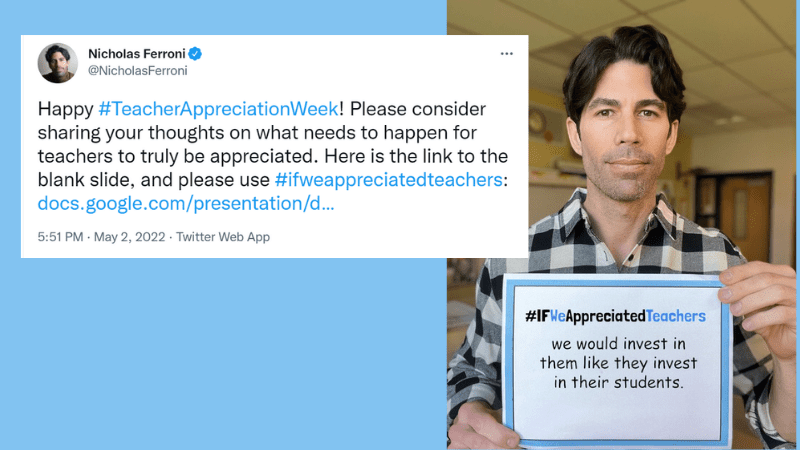 It's Teacher Appreciation Week. This year, however, it feels like it's hitting a bit different. Many teachers are tired. And frustrated. And want the world to know that real appreciation isn't a mug or a muffin. When classroom teacher Nicholas Ferroni went on Twitter to encourage educators to share what it might look like #IfWeAppreciatedTeachers, it went viral in a hurry. And many teachers are using the opportunity to tell the world what real appreciation for the work they do would look like. Here are just a few of their suggestions.
We could talk about problems in education without being ignored or accused of "whining."
We'd be paid a  salary that accurately reflects the amount of work we do each day.
Our professional abilities would be trusted and respected.
The mental health and wellness of both teachers and students would be taken seriously.
#IfWeAppreciatedTeachers

, we'd hire enough school counselors so that teachers would not also have to handle mental health crises on top of … everything else. —

@theDRAMAgoat1
#IfWeAppreciatedTeachers

, we would be as concerned about SEL for the staff as we do the kids. —Karen S.

#IfWeAppreciatedTeachers

, we would take care of educators mental health and provide more support. —Christina V.
We wouldn't have to pay for supplies to teach other people's children.
#IfWeAppreciatedTeachers

, there would be glamorous galas for educators where school supplies would be unlimited and flashes of support would replace flashes of cameras and paparazzi. —Tracey R.

#IfWeAppreciatedTeachers

, they wouldn't have to purchase their own supplies for their classrooms or post them on social media for strangers to buy for them. —

@Ldev101
#IfWeAppreciatedTeachers

, I wouldn't spend an hour each day on Twitter begging for

#teachertwitter

to

#clearthelist

for basic school supplies, manipulatives, engagement materials and snacks for my students. —Carmen K.
The growing teacher shortage would be given the serious attention it deserves.
We wouldn't be used as political pawns.
What would you add? Join the conversation in our WeAreTeachers Facebook Group and let us know!
Note: Some responses have been edited for length and/or clarity.