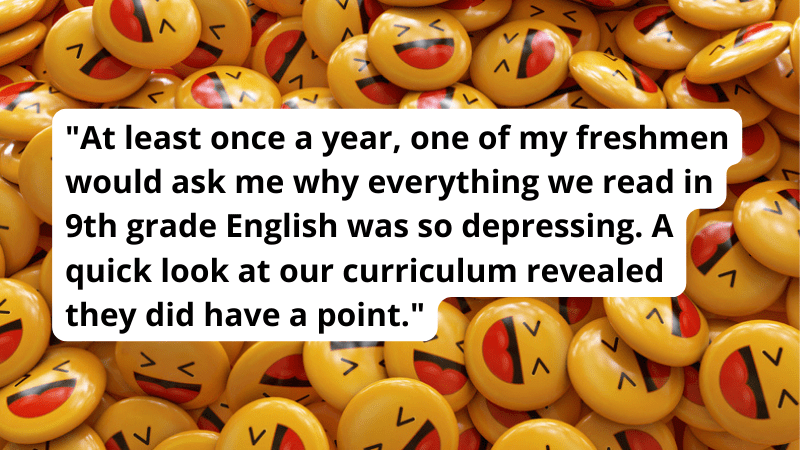 At least once a year, one of my freshmen would ask me why everything we read in ninth grade English was so depressing. A quick look at our curriculum revealed they did have a point. "Romeo and Juliet," Of Mice and Men, short stories like "Lamb to the Slaughter" and "The Most Dangerous Game" all told tales of death and despair. While all are excellent, I began to wonder if I could find some different texts to add to the mix. It turns out, while scary short stories and dramatic short stories are easy to find, good funny short stories for middle and high school students are a bit trickier to track down.
With that in mind, here's a list of funny short stories to use in your classroom when you want to bring a bit of humor to your lesson.
I love introducing students to science fiction. We really don't use it enough in our English classes. In this story, two aliens discuss the bizarre new life form they've discovered and try to figure out how it thinks and lives. Your students will laugh out loud when they discover that the aliens are talking about humans and love figuring out the everyday activities and items the aliens just can't seem to make sense of.
In class: This is perfect for introducing a new genre to students. After reading, ask students to craft their own science-fiction short story. As a class, brainstorm a list of activities of events that take place all the time that we think are totally normal. Then, ask students to write their version of an alien race trying to figure out a birthday party, after-school detention, or lunch in the school cafeteria.
2. Charles by Shirley Jackson
Written by the same woman who wrote the eerie short story "The Lottery," this story is guaranteed to make students of all ages chuckle. The tale of the worst kindergarten student ever, as told by a student in the same class to his mother at the end of every school day, your students will love hearing all about Charles's antics. The twist at the end of the tale will make students gasp and giggle.
In class: Perfect for lessons on irony, your students can debate whether Jackson's funny short story demonstrates verbal, situational, or dramatic irony. I've also used this story to show students how an author can utilize dialogue as a method for developing characterization.
Like "Charles," this is another classic, well-known story. An older woman takes a young man under her wing after he attempts to steal her purse. As they spend time together, she teaches him a valuable lesson about life. It's perfect for upper-elementary and middle school students.
In class: This is one of those funny short stories that lends itself to lessons about dialogue, diction, theme, and characterization. It's also a great text to use for practice discussions or Socratic seminars. Students could easily develop questions about the actions of the characters. They could consider how they would have responded in the same situation. And they could even reimagine the story as if it were written today.
While many students will have read "The Gift of the Magi," this short story by the same author is much less well known. Lord Oakhurst is dying, his wife is grieving (or is she?), and a doctor arrives to try to help. Your students will be shocked and amused by this quick read.
In class: Indirect characterization leaps to the foreground in this funny short story as students can debate whether Lord Oakhurst's wife is truly as sad as she says she is throughout the story. The story also makes use of flashbacks, making it great for introducing or reviewing that concept.
Satire is a tough genre for so many students. The popular satirical online news magazine The Onion comes to the rescue here with a hysterical piece that, while not a short story exactly, certainly tells a tale students will guffaw over. In the article, students learn the plight of a young man who almost received severe consequences for driving while under the influence. Some satirical pieces are almost too serious for students to see as satire, but this one does a great job of taking a serious subject and turning it on its head to make a point.
In class: This piece is perfect for students who aren't ready to grapple with some of the more complex satirical pieces they're often given in school. If your group isn't quite ready for Swift's A Modest Proposal, this is a great place to start. As an introduction to satire, pairing this piece with actual news reports of cases where privileged young people have received shockingly light sentences for serious crimes will definitely keep your students engaged (and enraged?).
This short story caper takes on the classic detective trope and mocks it mercilessly. Over-the-top costumes, mistaken identities, and a ridiculous reveal make this a truly funny short story to share with your students.
In class: I wish I still taught the mystery unit I taught for many years so that I could add this funny short story to the mix. This is a perfect piece to introduce satire. It mocks many of the most common elements of typical detective stories in a truly hilarious fashion.
Given her popularity in current popular culture, Margaret Atwood is an author our students should know. This short story about a fairy-tale writer receiving some "constructive criticism" on how to make their story more inclusive is sure to inspire reactions among your middle or high schoolers.
In class: This is a great short story to use when teaching the importance of how dialogue can impact tone. Additionally, it would be a great piece to bring to any discussion of whether or not students should read "old" stories that have language or ideas that are considered problematic today.
Definitely one for older students, this short story had me literally laughing out loud. It is written as a series of concerned letters/emails from a kindergarten teacher to the parents of young Niccolò Machiavelli. The reports of his plans to overthrow his teacher and replace her with the school janitor are hysterical.
In class: I don't know if The Prince is still used in many English or political science classes, but if so, what a phenomenal accompanying text this would be. It would also work as a paired text with nonfiction readings about Machiavelli. As the word "Machiavellian" appears frequently in the news stories, it could also be used as a vocabulary unit. Finally, it could be used to show students that stories can be written in a variety of formats. Ask your students to imagine what an email or text exchange between one of their favorite characters and a teacher/doctor/neighbor might look like. The results could be hilarious.
9. Joy by Anton Chekhov
The main character in this funny short story becomes famous. He rushes home to tell his family. Your students will love the reactions of his stunned family. They'll also have plenty to say about the protagonist's glorious new stardom.
In class: Perfect for units covering tragic heroes or characters who fall from grace, Chekhov's work is a pretty searing commentary on the ideas surrounding what it means to be famous. Your students will have a great time making comparisons between the protagonist and various YouTube or TikTok stars of today.
Time to throw a curveball into the game. Have you heard of The Moth? It's an organization with the mission to "promote the art and craft of storytelling and to honor and celebrate the diversity and commonality of human experience." They have open-mic storytelling nights in different cities around the country where people just stand up and tell stories based on a pre-set theme. You can find lots of them on the Moth's website and on YouTube. This one is about a man who has his identity stolen by a Domino's Pizza employee. His mission to get revenge will have you and your students laughing out loud.
In class: Many of the stories do include a swear word or deal with adult themes, so be sure to preview the story first. I love the idea of sharing verbal storytelling with students of all ages, especially in the context of a funny short stories unit. It's great for reluctant readers and could make an awesome alternative assessment option.
Written by the same author who wrote "The Secret Life of Walter Mitty," this story is also about an unhappy man who dreams of improving his life. The way he accomplishes this, however, is where the humor (and some shock!) comes in.
In class: Introducing students to more challenging text can always be a bit of a tough sell, so it's nice to have a few short stories to warm students up to the idea. Students can practice transacting with text, asking questions about sections that confuse them, and working together to build comprehension.
Another curveball! I love introducing my students to examples of real-life writing that is actually going on today. While many funny short stories on this list are from the early 1900s, this piece was written in 2020 and appeared in McSweeney's Internet Tendency. The site features humorous pieces on a variety of timely topics. While many aren't appropriate for school, others, like this one, are perfect examples of how people are still writing and creating today. In this piece, the personified "afternoon walk" explains to the person taking it that it can't be everything the walker needs it to be.
In class: Best suited for older middle school and high school students, I would love to use this as a mentor text. Imagine the creative writing pieces students could create if asked to personify something in their lives.
Confession time—I hate ordering food by phone. It doesn't matter if it's healthy or not, or if I'm ordering for one person or twenty. I hate it. I get flustered and almost always end up messing something up. Hence why this story, about a man who gets nervous in banks, spoke to me. Leacock's description of the main character fumbling his way through opening a bank account had me laughing out loud.
In class: Finding characters from the past that students can relate to is tricky. I like the idea of asking students to free-write or discuss what situations make them feel anxious or uncomfortable. They could write down feelings, descriptions, and images. After reading this story, they could create their own humorous (or serious) stories about their own scenario.
Yes, it's a poem. But it also tells a story, which makes it a great addition to this list of funny short stories. In this poem, we meet a grumpy old man who is always telling people to grow up. But one day, someone tells him to "grow down." When he does, he discovers he likes it much more than growing up.
In class: This piece would be perfect for students who are struggling to grasp concepts like theme or characterization. There's plenty of direct and indirect characterization throughout the poem and the message is pretty obvious throughout. Additionally, Shel Silverstein's voice is perfect for discussions about tone.
What funny short stories do you like sharing with your students? Tell us in the comments.