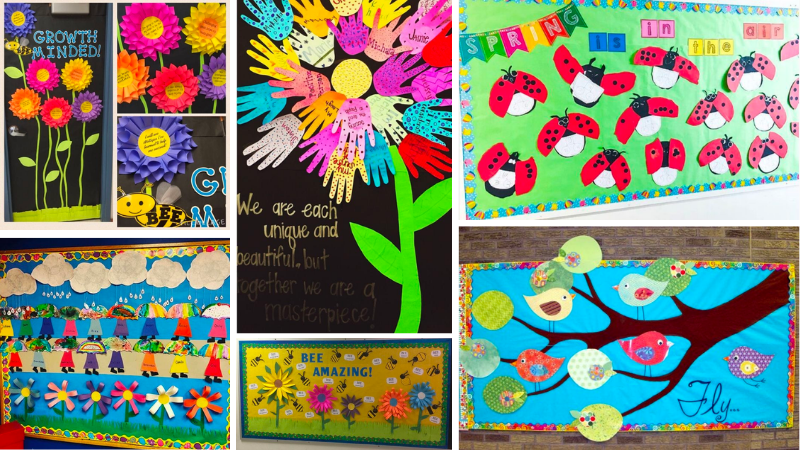 Spring begins on March 20, and what better way to celebrate growth and new beginnings than with a new bulletin board! There are so many fun ways to bring the season to your spring bulletin boards.
Want the cheeriest of spring bulletin boards? Here are some basic supplies to get you started. Then check out the list of 20 bulletin boards and doors below for inspiration.
(Just a heads up, WeAreTeachers may collect a share of sales from the links on this page. We only recommend items our team loves!)
1. Leave winter behind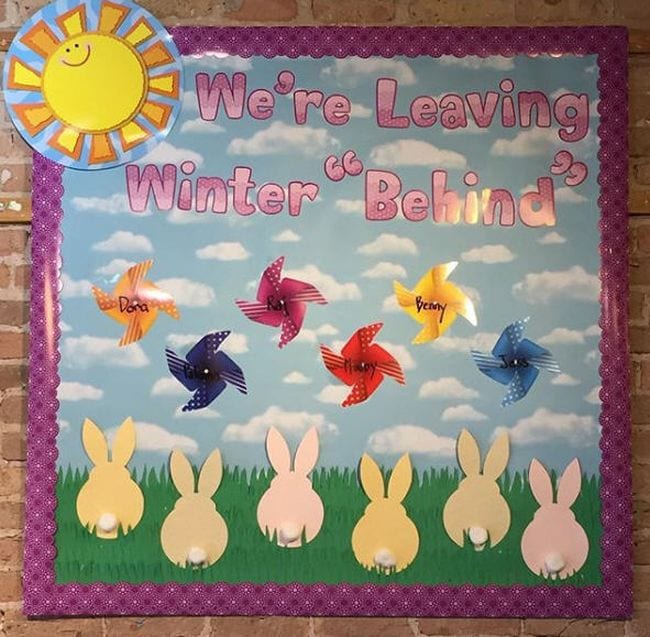 Kids will get a giggle out of this punny bunny spring bulletin board. Feeling ambitious? Have kids make real working pinwheels to attach to the board.
Source: Chicago Teacher Store/Instagram
2. Enjoy the showers and flowers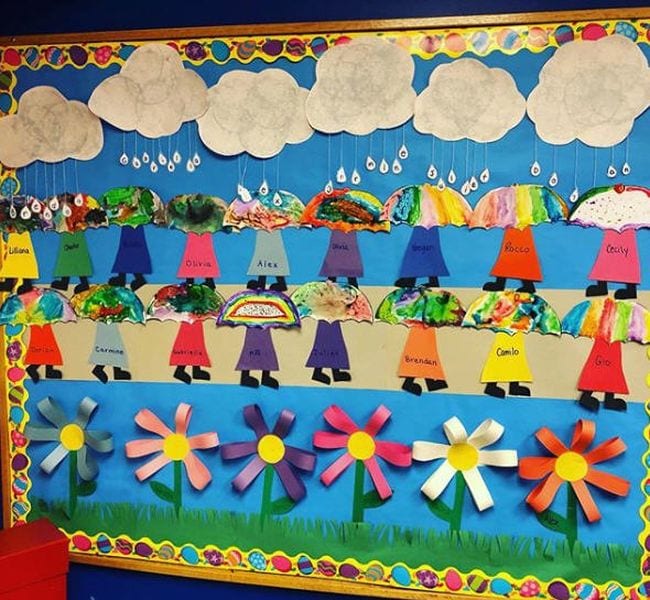 Use watercolors or crayons to decorate umbrellas, then hang them over paper raincoats featuring your students' names. Words or names fall from the clouds in raindrops, while those 3-D flowers are simple enough for any teacher to create.
Source: Miss Nancy 3S/Instagram
3. Swing into spring
Look at all those adorable little students enjoying the world's longest swing set! We think it's amazing, and your kids will too.
Source: PE Central
4. Demonstrate your growth mindset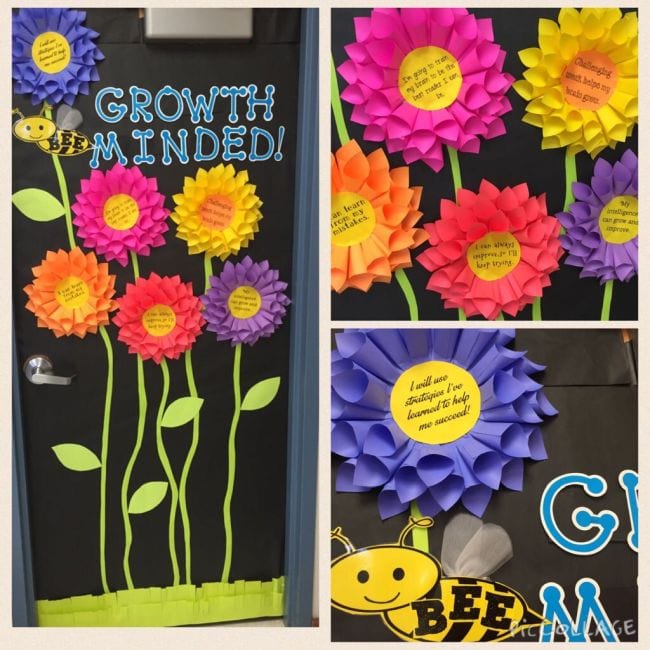 Flowers that are 3-D really pop, and these are easier to make than you might think (get instructions here). They're a beautiful way to highlight growth mindset statements.
Source: Morgan Kirven/Pinterest
5. Spring for success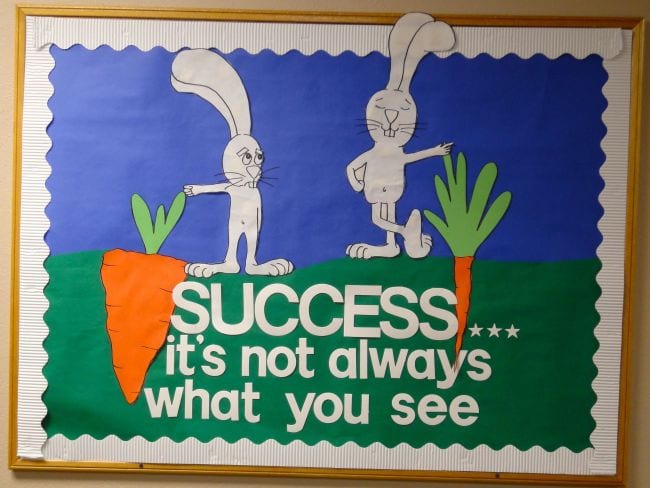 These fun springtime bunnies will remind your kids that there's more to success than meets the eye. That's a lesson worth learning all year long.
Source: Tony Morales/Pinterest
6. Shower them with springtime math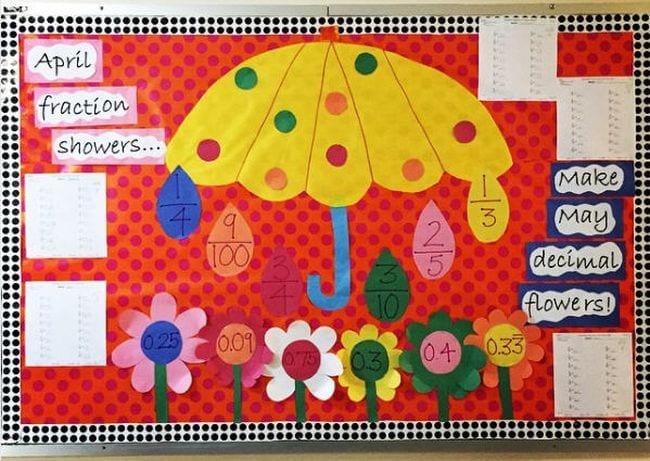 Give new life to the old saying by adding some math facts. Each raindrop holds a fraction, each flower the corresponding decimal.
Source: The Edgy Educator/Instagram
7. "Bee" amazing all spring long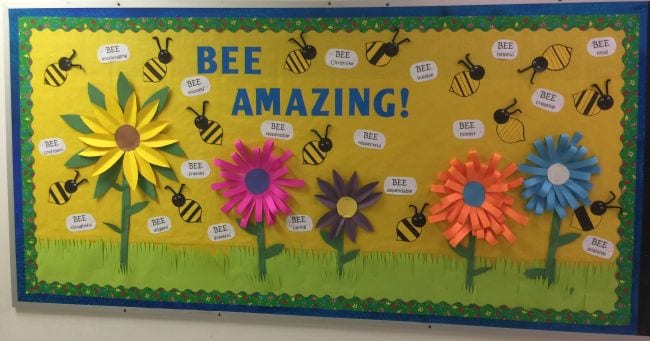 Have your students help you make a list of ways to "bee" amazing. Then create this simple spring bulletin board with eye-catching flowers and happy bees to display their answers.
Source: Cathy Ross/Pinterest
8. Build a flower of handprints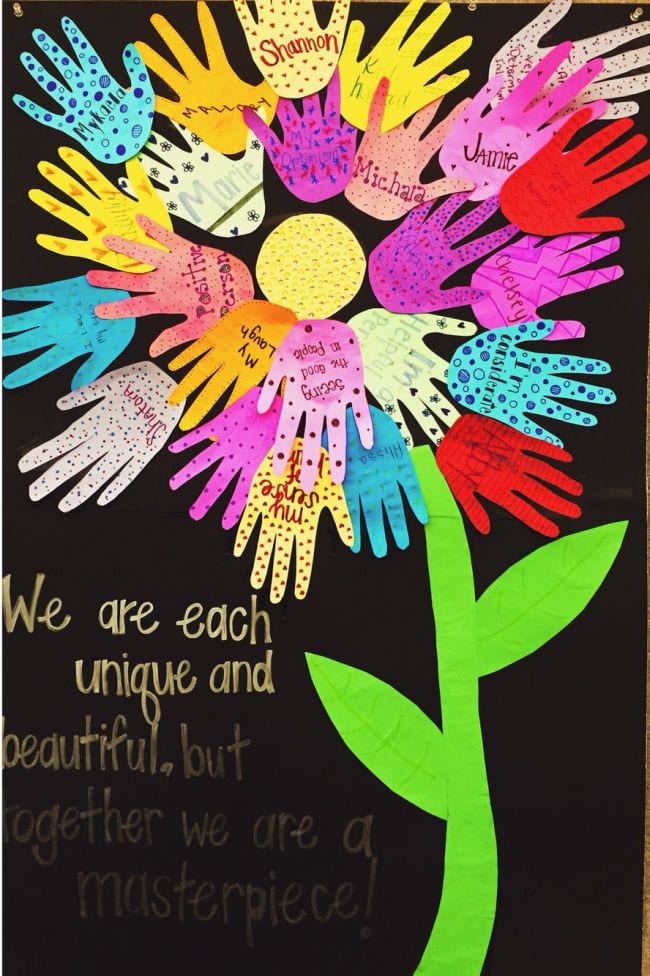 Trace each student's hands on colorful paper and have them add decorations. Then use the handprints to create a single spectacular springtime bloom.
Source: Shannon Sullivan/Pinterest
9. Assemble a shower of test tips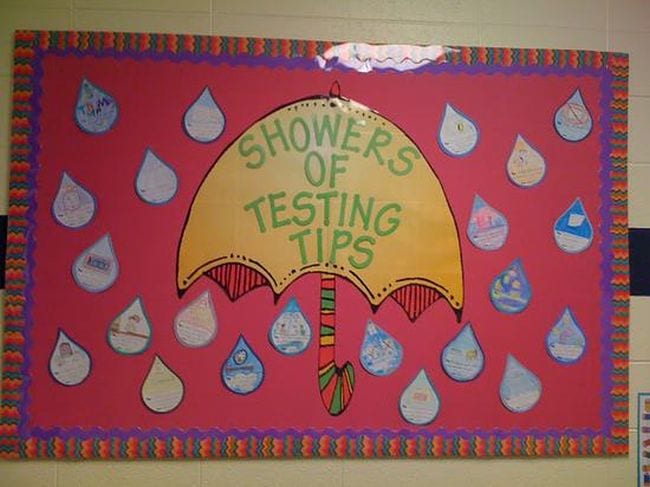 For many, spring brings testing season. Get kids to share their best tips for staying calm during testing season on individual raindrops and post them for all to see.
Source: Supply Me
10. Fly away on spring breezes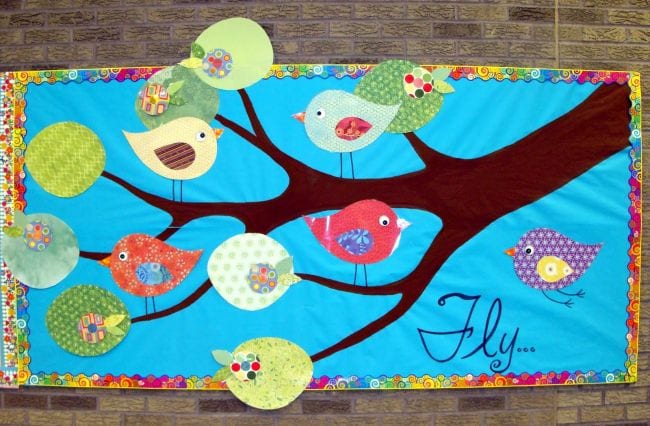 These cheerful spring birdies are easy to create using vibrant scrapbook paper. Paint the tree branch and give each birdie funny little feet to complete the scene.
Source: MrsPicasso's Art Room
11. Bug out about spring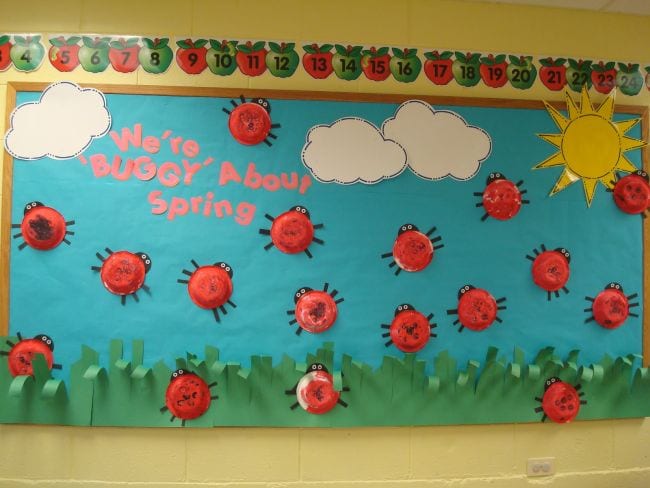 Paper plate ladybugs are easy to make and look so great on display. You could also make bees by using yellow plates and adding stripes and wings. Or link together multiple plates to create a caterpillar to fit with the bug theme.
Source: Trinity Preschool Mount Prospect
12. Celebrate April showers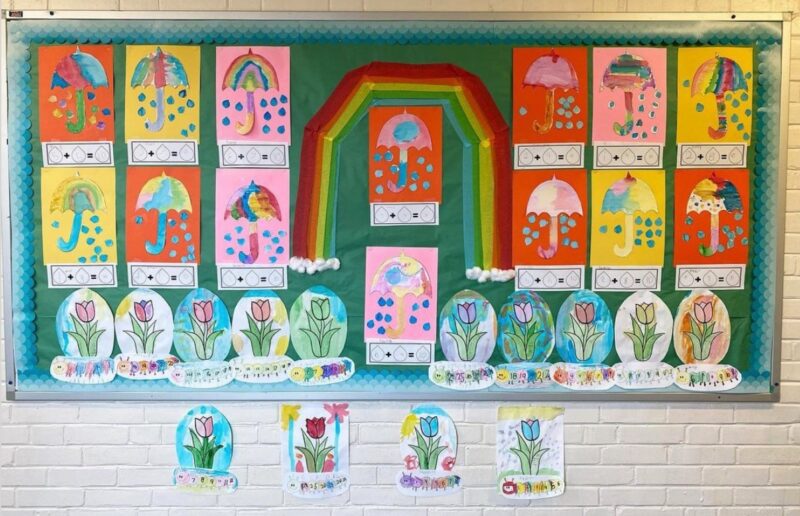 April showers bring May flowers & math caterpillars.
Source: @sucka_b_real
13. Hello Spring!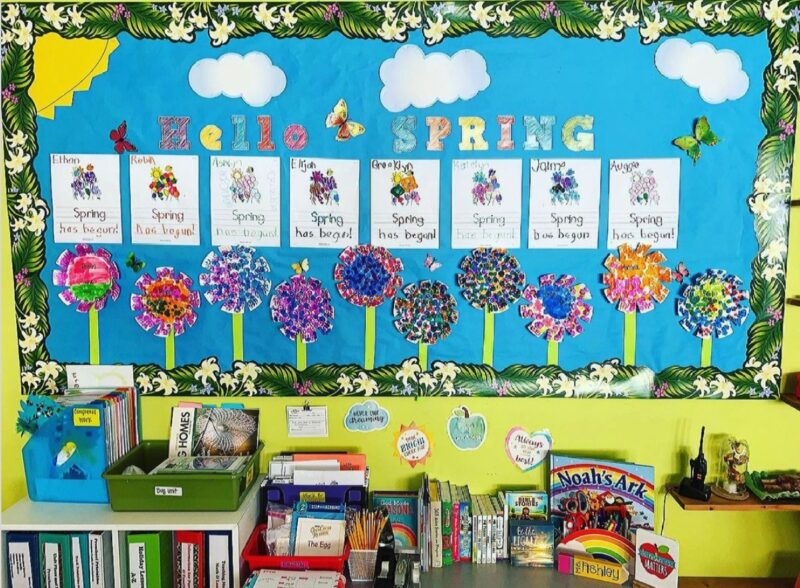 Flowers and flowers and flowers galore.
Source: @ashdukexo
14. Spring is in the air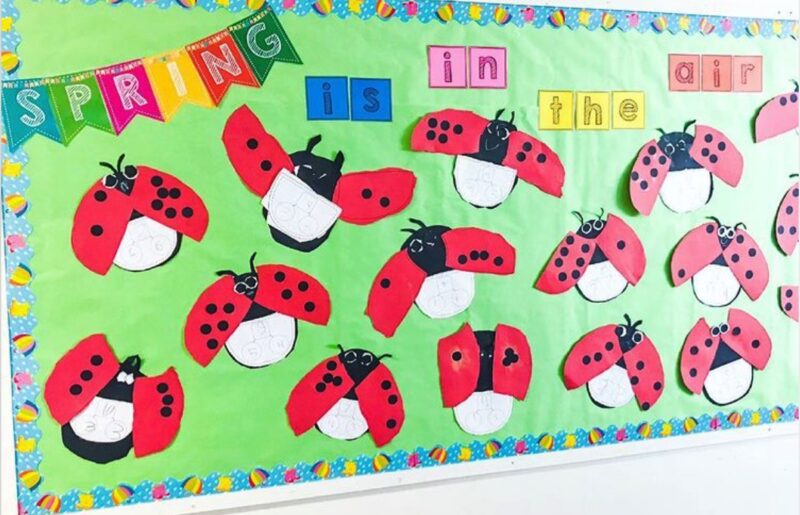 These adorable ladybugs also help with counting and addition!
Source: @poppingintokinder
15. How does your garden grow?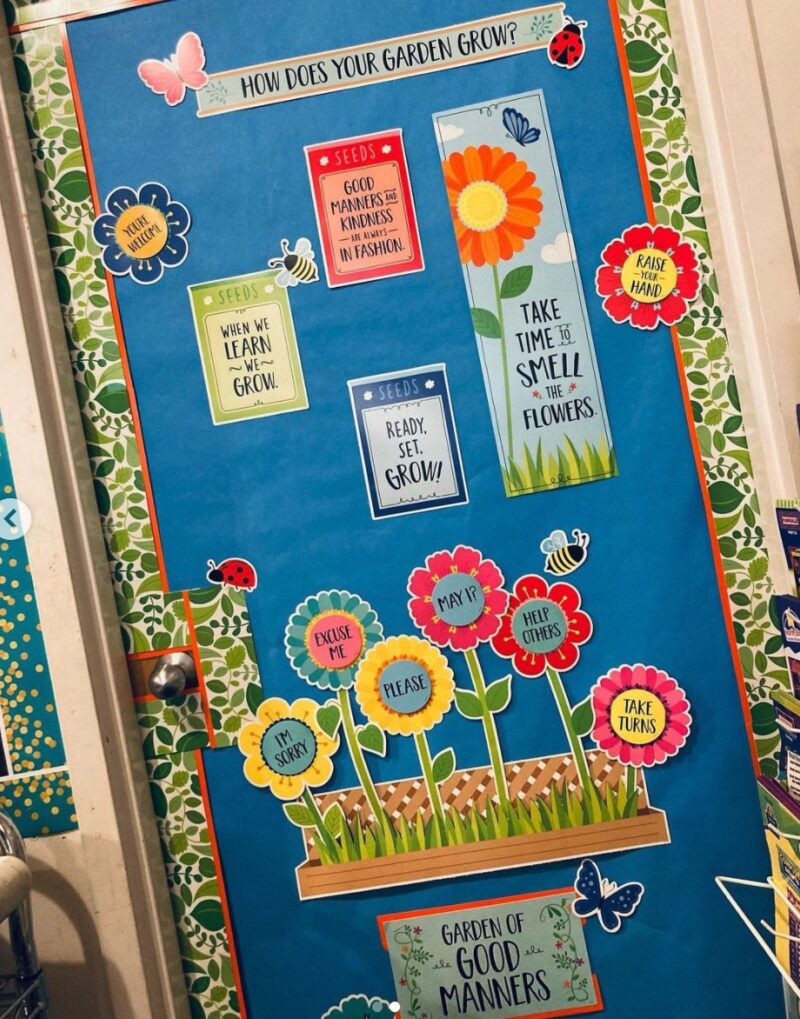 Sometimes Good Manners actually take practice and reminders, so put this on your door! So everyone in the building can see it!
Source: @chicagoteacherstore
16. When we learn, we grow!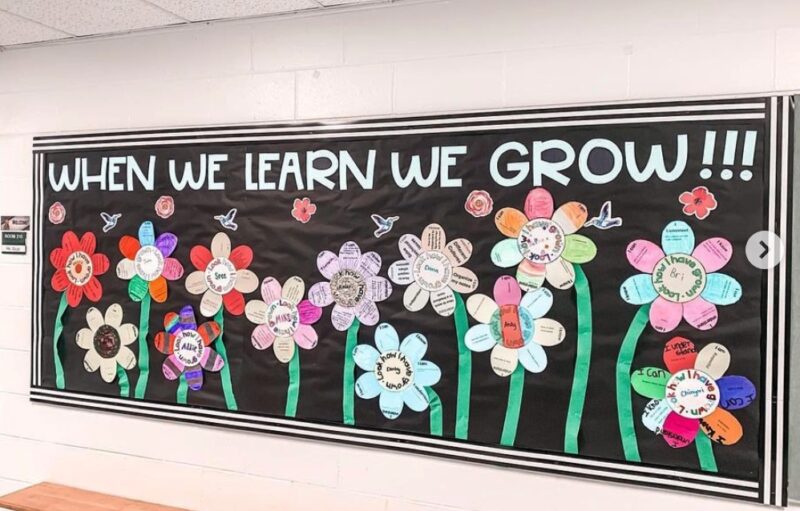 Each student reflected on who they are, what they know, what they understand, and what they can do.
Source: @cultured_classroom
17. If nothing ever changed, there would be no butterflies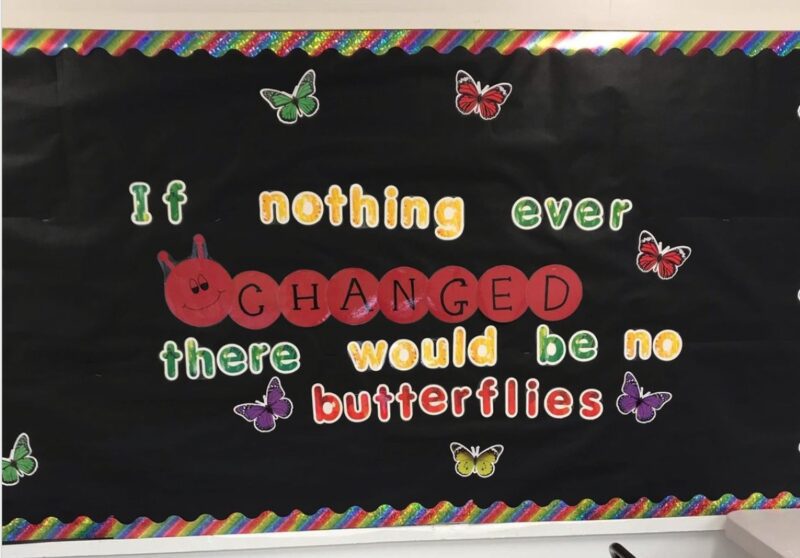 So true! Discuss the transformation.
Source: @just_tee_cota
18. Bloom!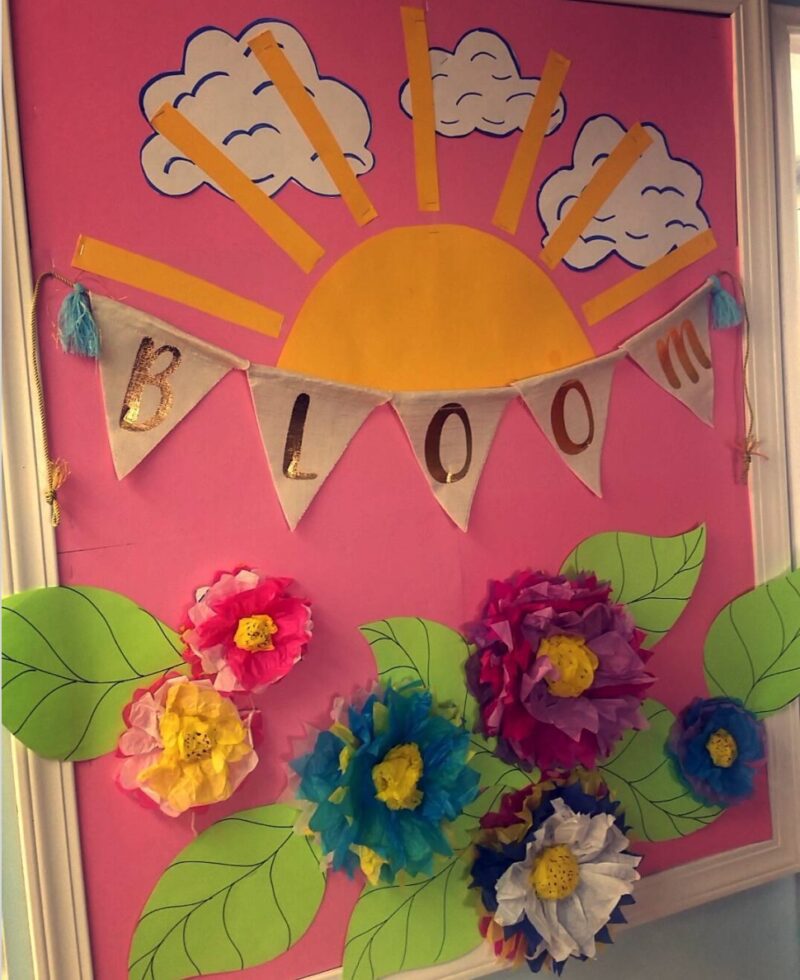 Paper flowers and a Bloom banner are all you need for this … one of our favorite fun spring bulletin boards.
Source: @iskulo
19. Your wings already exist, all you have to do is fly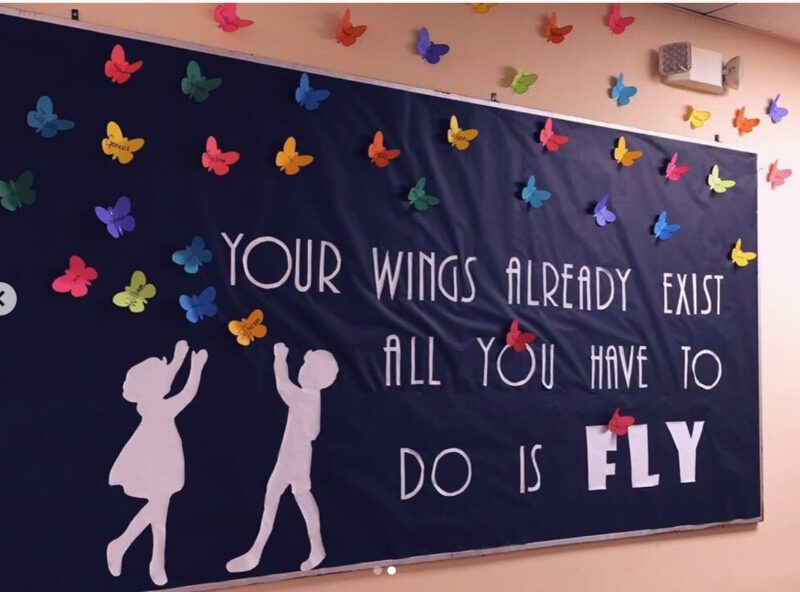 We love all the butterfly names and cutouts.
Source: @mssolimansclass
20. Walk into spring with a good book!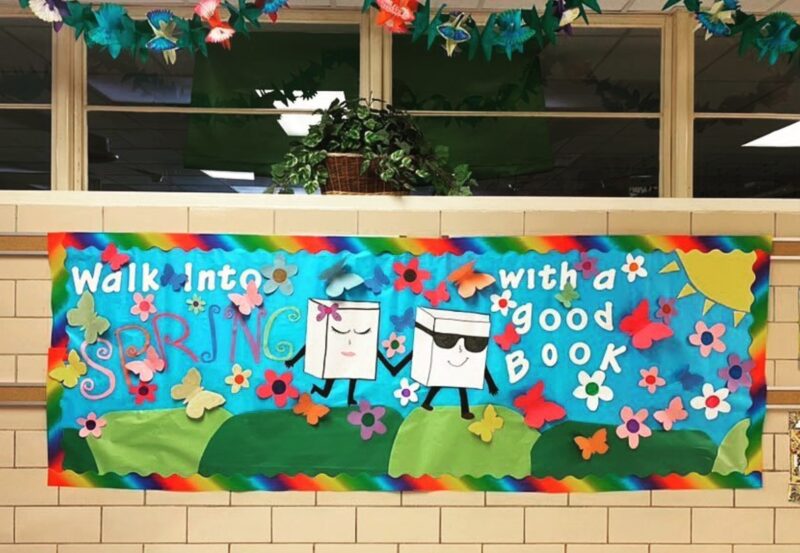 Perfect for your library or hall!
Source: @greatlibrarydisplays
Have more great spring bulletin boards to share? Come and post them in our WeAreTeachers HELPLINE group on Facebook.