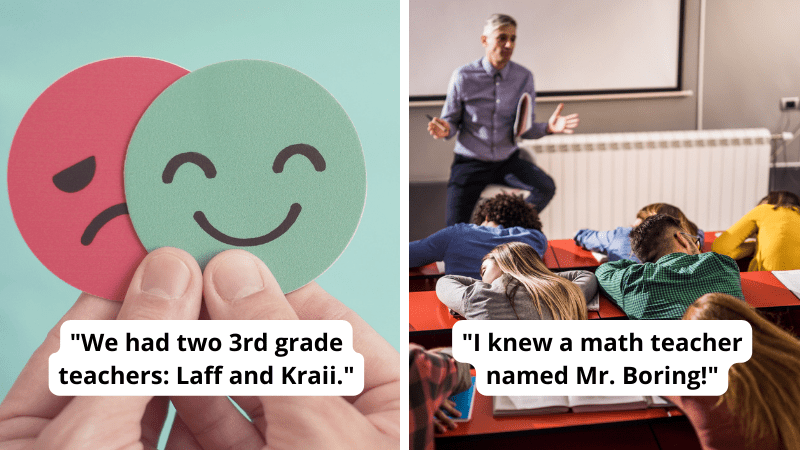 Recently we posted this image to our Facebook page from a teacher on our team:
The comment section then blew up with people responding with amazing teacher names. Some were their own names, some were their kids' teachers' names, some were their own teachers' names. But all of them—all of them—were gold.
Absolutely Perfect Pairs
"My kids had a Mrs. School and Mrs. Pencil."
—Lori A.
"Our choir director for many years was Mr. Heard. He was followed by Ms. Piano after he retired."
—Diane W.
"My high school English teacher, who inspired me to teach high school English, was named Mrs. Wright."
"Now, I've been Mr. Reid for many years in the English classroom; meant to be."
—Brad R.
"My kids had a teacher named Mrs. Frost and one year they put Mr. Ice next door to her!"
—Rachel W.
"My grade 2 teacher was Mrs Read. My sister's kindergarten teacher was Mrs Teach. Their real names."
—Jen P.
"I had a Mr. Reeder for English/writing and a Mrs. Walker for PE."
—Maddi R.
"Um, we have kindergarten teachers named Mrs. Smiley and Ms. Super!! I mean …"
—Megan L.
"We had two 3rd grade teachers who were Laff and Kraii."
—Barbara L.
Some English/Language Arts Teacher Names for the Books
"I am a teacher and was Mrs. Read for many years. My second marriage I was Mrs. Chalker."
—Jennifer L.
"I am Mrs. English the English teacher …"
—Kimberly E.
"My elementary librarian's name was Mrs. Paige."
—Chris and Julie M.
"I'm an ELA teacher! Mrs. Vowels."
—Kim V.
"I student-taught with an English teacher named Miss Spell."
—Chris S.
Math Names That Just "Count" Be Beat
"Worked with a math teacher named Mr. Meter."
—Mary R.
"Had a math professor in grad school named Dr. McMath."
"His wife, also Dr. McMath, also taught math at the same college."
—Ashley S.
"I'm Mr. Math and teach 6th grade math. Do I win?"
—Mark M.
"I met a Mrs. Count and a Mr. Angle at the same table at a math teacher's conference."
—Jen R.
A+ Names of Elective Teachers and Staff
"My kids' music teacher is Mr. Drumm."
—Lisa B.
"My German teacher, who also taught Spanish, was Mrs. French."
—Makenzie S.
"What about an art teacher named Mrs. Painter?"
—Laureen L.
"My school's orchestra teacher is Ms. Bass."
—Lizzie H.
"My name is Armstrong and I teach physical education."
—Sally A.
"Mrs. Kidwell here. School counselor."
—Laura K.
"My elementary band teacher was Mr. Minor."
—Kali J.
"Our traffic safety teacher was Mr. Rex Easely. Can't make that up."
—Lucy J.
"I taught English for seven years and I'm a school librarian now with the last name Limerick lol."
—Megan L.
"When we started our school gardening project, we had a mentor that was a gardening expert. His name was Mr. Moss."
—Sharon B.
Oof. That's rough.
"I'm a teacher, my last name is Fortune. That's right, Miss Fortune."
"I've also seen these names, Mrs. Best, Mrs. Mean, and Miss Stake over the years."
—Kelly F.
"I teach cooking, my name is Mrs. Byrne."
—Sharon B.
"I knew a pretty good math teacher named Mr. Boring!"
—Angie F.
"Super cool getting asked to teach sex ed as Mrs. Sexton. The kids never comment on that at all!"
—Ashley S.
So Cute It Hurts
"I teach kindergarten and my married name is Mrs. Goodchild!"
—Amanda G.
"I'm Ms. Grade."
—Alaina G.
"My 3rd grade teacher's name was Mrs. Love."
—Rainy L.
"We have a teacher with the last name 'Smart' in our building!"
—Allison F.
The winners:
"My daughter's kindergarten teacher was Ms. Counts, her bus driver was Mr. Wheels, and my older daughter's band teacher was Mr. Loud."
—Sarah M.
"In high school our principal was Mr. Good."
"The vice principal was Ms. Wright. Our guitar teacher was Mr. Strum. PE teacher was Mr. Converse, and my favorite, Liaison Officer Cst. Constable."
—Cathy D.
When multiple commenters added they couldn't believe it, Cathy responded again:
"Truth. I might add I badly injured my foot one year and had to bring Mr. Converse notes from my foot specialist … Dr. Treadwell. Lol."
What's the best (or worst) teacher name you know? Share with us in the comments.
Looking for more articles like this? Be sure to subscribe to our newsletters!