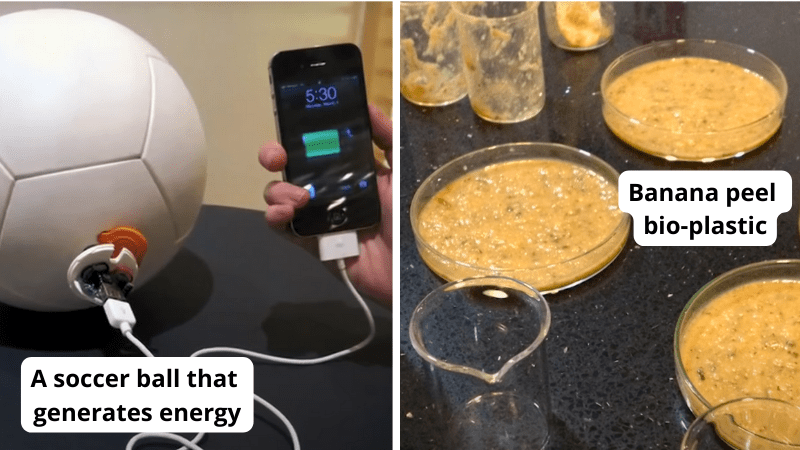 Brought to you by The Henry Ford
inHub helps teachers prepare students to be world-changing innovators, inventors, and entrepreneurs using primary sources from The Henry Ford Archive of American Innovation. Sign up today!
How did they come up with that? How was that made? What will they think of next? They're questions that fascinate us, and they can be a great springboard into the world of innovation for your students. That's why we rounded up these invention videos for kids, pulled from The Henry Ford's inHub. Get ready to be inspired by these incredible innovations that may just spark the next great idea for the future innovators in your classroom.
1. A soccer ball that generates energy
Meet Jessica O. Matthews, the inventor of Soccket. Jessica's invention is an airless soccer ball designed to be played with during the day and illuminate a home by night! The core has a mechanism that harnesses kinetic energy (a great science lesson here, too!).
2. A smart watch for the visually impaired
The DOT Watch, brainchild of inventor Eric Kim, is revolutionizing how blind people tell time. It has Braille on the surface, so users can read time, messages, or weather with their fingers!
3. A new way to create art
Artist/inventor Michael Papadakis uses the power of the sun to create intricate pieces of art. With giant lenses, he burns a design into wood. Time to talk about refraction and reflection!
4. A more sustainable shoe cover
Don't want dirt on your floors but don't like the idea of single-use plastic shoe covers? Try Step-In's reusable booties. They work a lot like a snap bracelet. Just step and snap!
5. Glasses that let color-blind people see color
Color blindness affects nearly 300 million people worldwide. With these glasses from EnChroma, people with color blindness can see the full spectrum of color. An accidental invention with the best outcome—just watch the reactions.
6. A wristband that keeps you safe from sharks
Young surfer Nathan Garrison came up with the idea for these wearable bands that keep surfers and swimmers safe from sharks after his friend was bitten by a shark. It works via a patented shark repellent that uses magnetic fields. So cool.
7. An a-peel-ing alternative to plastic
Do you have students who are worried about climate change? Show them this video of kid inventor Elif Bilgin, who went "bananas" with her science project, turning banana peels into plastic. It's still in the experimental stage, but she hopes it will someday be a substitute for petroleum-based plastic.
8. A shoe that grows with you
Your students will be familiar with outgrowing shoes, but do they know how it affects kids in the developing world? Kenton Lee came up with the Shoe That Grows, an adjustable, expandable shoe that can grow five sizes and last up to five years. The best part? He was just a regular guy with an idea, and now he's solved a problem that's helping kids around the world.
9. A device to wash your dog while you stay dry
Calling all dog lovers! If you've ever wondered how to wash your dog without getting wet, well, you're in luck. Ryan Diez, with some help from his dog Delilah, invented a handheld dog-washing device that connects to a standard water hose and makes bath time a whole lot easier. Ryan actually came up with this idea when he was in fourth grade and made it a reality 22 years later. A great story of never giving up!
10. A tool to decrease distracted driving
We love our cars, and we love our smartphones, but the two don't mix. Learn how this trio of teen siblings is working together to reduce distracted driving. "The Inventioneers," as they've dubbed themselves, came up with a device that lights up and beeps if you're driving unsafely (like reaching into your purse or checking your phone). Patent before high school diploma? Check.
11. Reusable silicone food savers
Time to ditch the plastic wrap! To address the dual problems of food waste and single-use products, Adrienne McNicholas and Michelle Ivankovic invented Food Huggers, reusable silicone food savers that you can press a half-lemon, half-onion, or half-tomato into. It wraps around the fruit or veggie to form a seal and keep it fresh. Inspired!
12. The best water toy ever
Meet Lonnie Johnson, the engineer behind the water toy to end all water toys. He's an actual rocket scientist with over 100 patents who has always made time for personal experimentation. He started tinkering with the idea of a water toy that kids could operate and pressurize, and he came up with the iconic Super Soaker. The early prototypes are so fun to see!
13. Canned food, Kleenex tissue, and Silly Putty
Why do we have these together? Well, they were all wartime innovations. In response to soldiers eating rotting food, airtight canning was invented. Kleenex facial tissue was born when Kimberly Clark had a surplus of their wound dressings. And Silly Putty? Well, folks were trying to develop a synthetic rubber for the war effort. Someone succeeded, but the rubber was too soft. But it became one of the most popular toys in America.
14. Orville and Wilbur Wright's historic first flight
Get ready for a history lesson! Orville and Wilbur were titans of innovation. Find out how the Wright brothers became innovation superheroes in this virtual field trip segment. Follow it up with this straw airplane activity.
15. Advice for inventors
Our list wouldn't be complete without this amazing video of current inventors giving advice to future inventors! Hear from the founder of Girls Who Code—as well as the inventors of FreshPaper, the stress-relieving wristband, a fingerprint padlock, and luxury tree houses—about being brave and following your bliss.
Love these videos? Get more videos, lesson plans, virtual field trips, and more at The Henry Ford's inHub. Dig deeper and inspire your budding innovators with inHub's Invention Convention curriculum, which teaches students problem-identification, problem-solving, entrepreneurship and creativity skills and builds confidence in invention, innovation and entrepreneurship. Learn how you can implement this free project-based curriculum and get involved here.