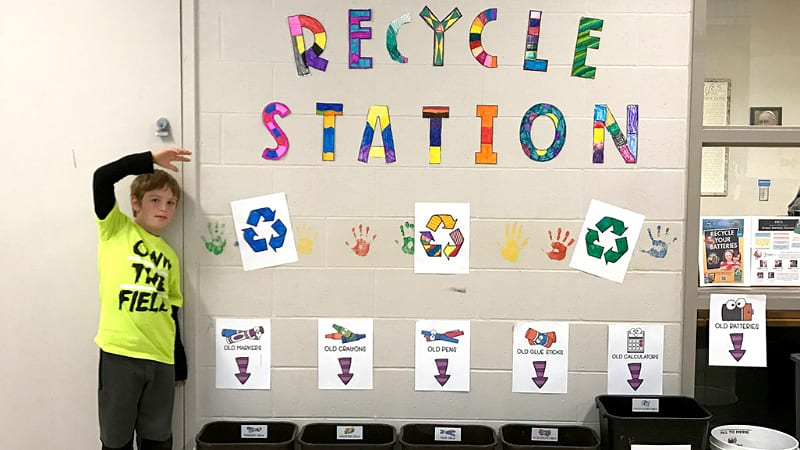 Brought to you by PepsiCo Recycle Rally
Recycle Rally is a free nationwide program that directly benefits K–12 schools and students by providing valuable incentives and resources to help make recycling easy, fun and rewarding.
What's the secret to a successful school recycling center? A little organization and creativity of course!
Teachers told us that putting a little flair and focus into their recycling center really increased interest and participation among students. We hope the recycling center ideas below inspire your school community to recycle more and maybe even create a new recycling center.
1. Keep recycling top of mind with this entryway.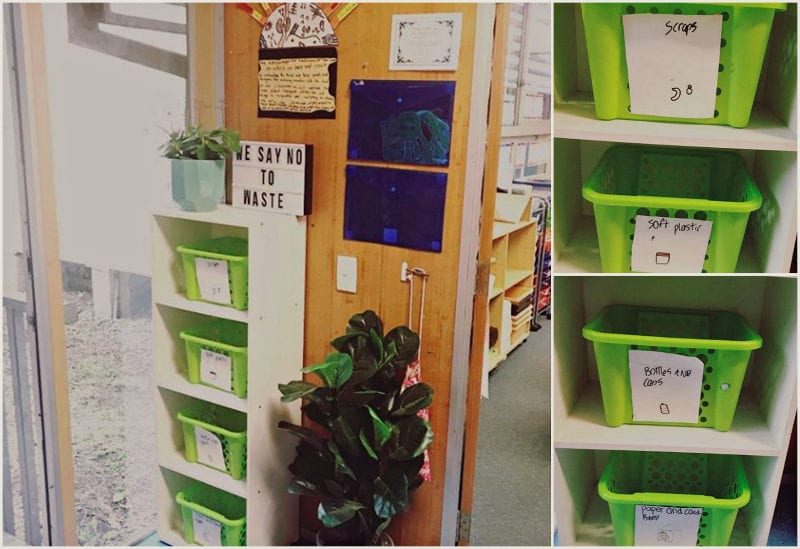 We love this entryway idea from teacher blogger Continuous Classroom. Her strategy to get students to be more mindful about recycling was to involve them in the process. Together they created an entryway center, so recycling was always at the forefront. Her students helped her tidy the entryway and come up with a sorting system for waste. "I fought (like, really fought) the urge to make pretty labels for the plastic baskets and instead left it to the kids," she says. "They were proud of themselves, making it worth it for me not telling them how to do it."
2. Turn extra lockers into a recycling hub.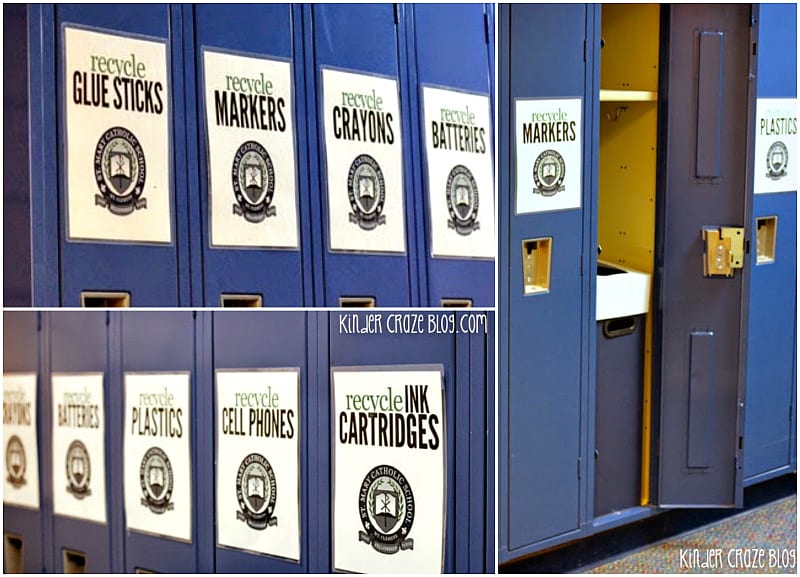 Maria Gavin, a teacher at St. Mary Catholic School in Michigan and blogger for KinderCraze, helped revamp her school's recycling center a few years back. Maria wanted to take St. Mary's school recycling from a bunch of mismatched buckets to an organized, inspiring school recycling center. An unused section of lockers was a perfect solution. Now students and staff actively recycle plastic, paper, crayons, glue sticks, cell phones, and more. Mary says a motivational banner along with clear signage and school colors or crests adds extra oomph!
3. Make your center mobile.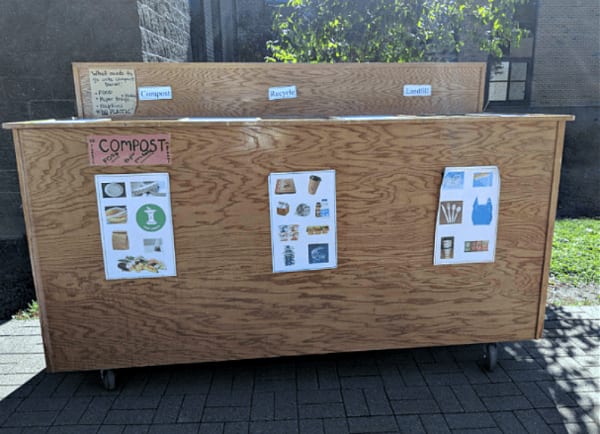 This is Igor, affectionately named by the students at Oyster River Cooperative School District in New Hampshire. Doris Demers is the director of child nutrition there, and she says having a center like this on wheels really comes in handy. Students and staff can wheel it inside or out. This makes collection easy. Plus, it's great for events, too. Well done Doris and students!
4. Use creative paintings to bring a community together.

We love what Los Angeles' Smile South Central did with local artists for LA's Sandra Cisneros Learning Academy. Artist and muralist ShadowMonsterBear says he spent the day with artists and elementary students talking about art and sustainability while also doing "live" painting. "These (animals) are watching to be sure nobody forgets to recycle!"
5. Make a game out of your school bins.
This recycling target is just waiting for a bull's-eye. Your students will love getting in the recycling game with this fun idea from Censie Sawyer of Building Our Story. She's a fan of PepsiCo's Recycle Rally and thinks a bull's-eye recycling target is a great idea for the classroom, too!
6. Use labels and a little organization to increase recycling.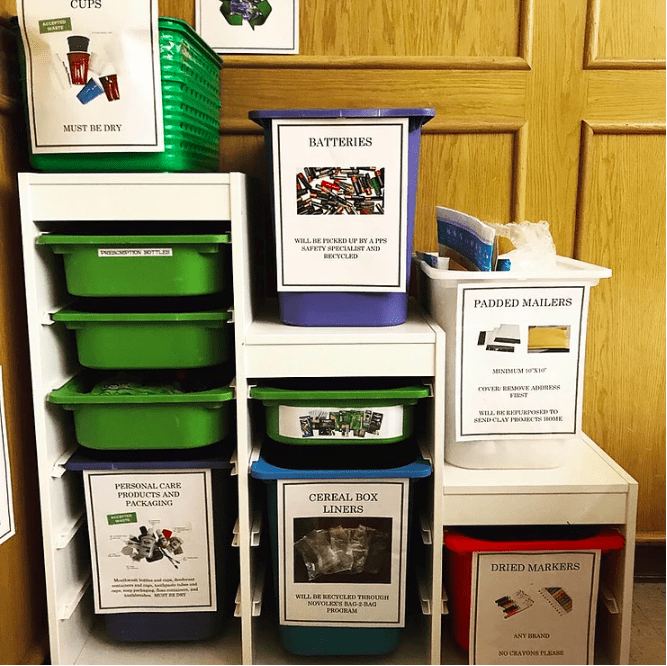 Gina Lascink, an Oregon elementary school parent, wanted to get involved in making her school recycling stations fruitful. After securing PTA, parent, principal, and staff support; finding shelves at IKEA; and getting the assistance of a willing front office staff, her green-team efforts were underway. She has one tip if you're trying to start something at your school: "The labels really MUST have photos of accepted waste and a description of what you accept and what state the items must be in (dry, clean, empty, etc.)." Gina also says, "Making your labels crystal clear will save you time and trouble later on!"
7. Give your recyclables a home.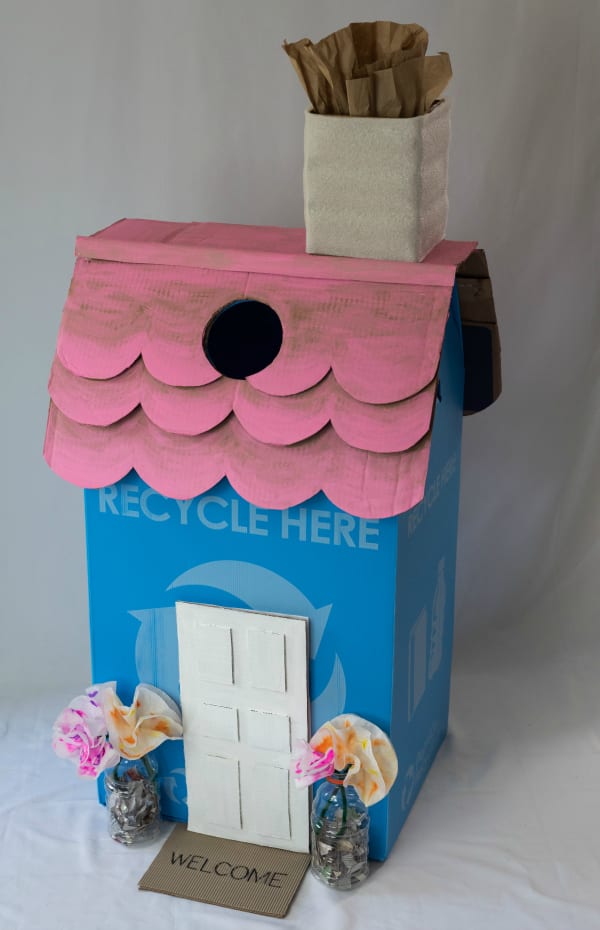 This awesome bin by Chelsey Odgers is from our recycling bin makeover challenge. Check out more makeover bins here. We love how a little creativity and cardboard can go a long way in reminding students to recycle.
8. Create a recycling center play area for little ones.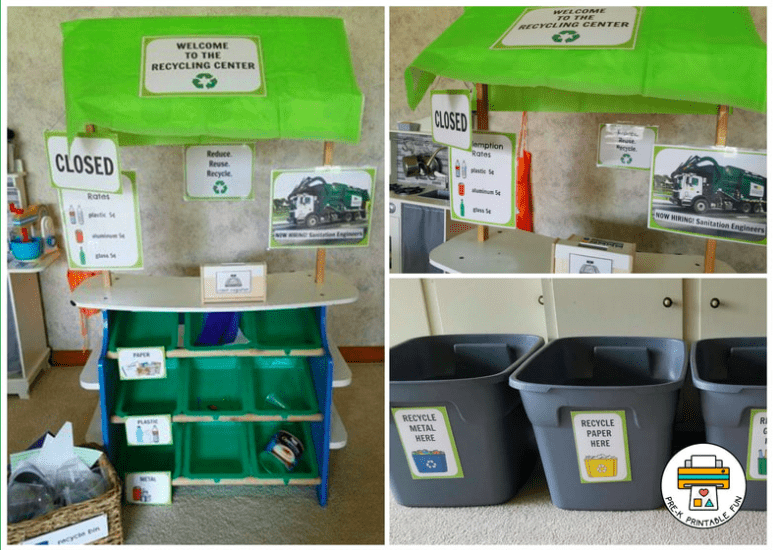 We love this pretend-play recycling center from Pre-K Printable Fun. Collect (clean) yogurt cups, plastic bottles, cereal boxes, papers, and more for sorting into bins labeled: Paper, Plastic, Metal, and Glass. Then take it to the next level by having a real working recycling center and getting those items to the recycling bin. You're helping create the next generation of earth-minded Recycle Ralliers!
9. Keep it colorful and simple.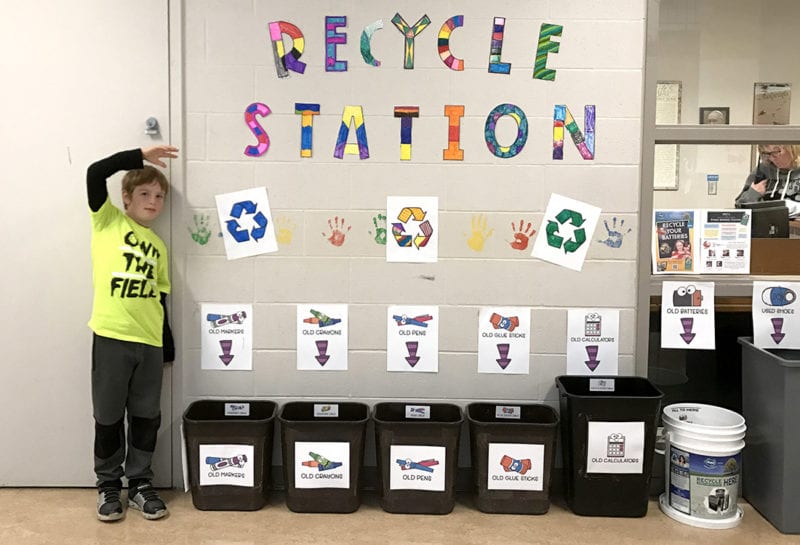 We love this simple, inspiring layout by the Junior Eco Engineers program in Ontario, Canada. JEE provides eco STEM-based workshops for elementary schools, including setting them up with practical, colorful school recycling stations!
10. Teach the what, where, and why in your center.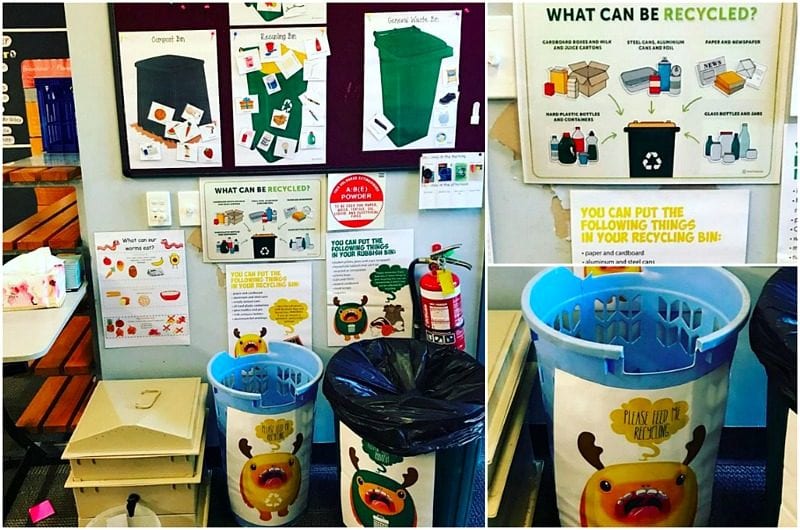 These lil' monsters are hungry for trash and recyclables. But what goes where? We love how Our Green Classroom sets up her station with clear kid-friendly signs and fun characters for recycling, trash, and composting. That's really setting them up for school recycling center success!
Do you need signs or other materials to get your school recycle station going? Check out the resources available at PepsiCo Recycling.