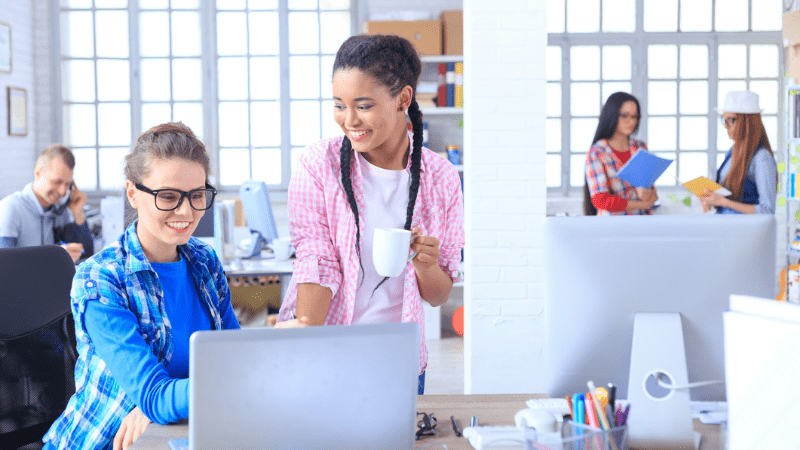 The front office and the people who work there are often the heart of a school. After all, they are the initial point of contact for everyone who enters the building—from students and their families to volunteers, visitors, teachers, and staff members. The front office serves as command central for communication to, from, and within the building and is the most valuable resource for finding help. Here are 10 essential tips for creating a friendly front-office culture.
Acknowledge every person who enters.
A big part of the job in the front office is responding to people as they enter the building. Kathryn Wolf, office assistant at Fireside Elementary in Louisville, Colorado, recognizes the importance of acknowledging every person with a warm greeting, a big smile, and direct eye contact. Even if you're busy with another task, people appreciate knowing you've seen them and will get to them as soon as you can.
Make the front office feel inviting.
The front office should be a warm and inviting. Feeling welcome makes a big difference, especially for families. "We know from research," says Judy Carson, an education consultant with the Connecticut Department of Education, "that the degree to which a school is welcoming influences the extent to which parents become involved."
Give front office staff PD in customer service.
Most of us have unfortunately encountered a crabby front desk person who conveys the message that helping us is a giant pain in the you-know-what. Having a happy-to-help attitude is essential for a friendly front office. Relationship-focused individuals who care about people set the tone for a caring school community.
Bring kindness into every conversation and gesture.
The front office is often the scene of delicate situations that must be handled with empathy. So communicating and listening are crucial skills for front-office personnel. Maybe a family is coming in to meet with school leaders over a discipline issue. Or a child isn't feeling well and needs a quiet place to wait to be picked up. Perhaps a teacher is upset because the materials she needs haven't arrived yet. Whatever the situation, being treated with kindness goes a long way.
Respect every single person who comes through the door.
The front office should be a place where everyone is treated with the same level of respect, whether they are a delivery person, a second grader, or the president of the PTA. Additionally, people's privacy should be respected. People who work in the front office are often privy to information that should not be shared or gossiped about.
Empower front-office staff to be your genius bar.
People rely on the front office to have information on a staggering spectrum of topics. One of the challenges of the job is developing a sleuth-like proficiency for being able to answer questions and, if that's not possible, knowing where to go to find the answers. Encourage your front-office staff to learn the ins and outs of the school so they'll be able to address most issues that come to them.
Expect and encourage efficient systems.
It's no secret that working in a school front office is a juggling act. Kids who need help, teachers who have questions, phones ringing—it all seems to happen at the same time. Even so, front-office personnel need to be able to handle a lot of action professionally and efficiently.
Show your school pride.
The front office should be a reflection of your school's pride. School colors, mascots, and mottos should be prominently displayed. Celebrate what a unique and special place your school is. Designate a bulletin board to feature student work, school accomplishments, and other things that will make everyone proud to be part of the school community.
Keep all the tools everyone needs stocked and available.
The front office should store essential school resources. Provide a roundup of useful information that families need, such as calendars, menus, district announcements, etc. A display case that features information for upcoming events, like concerts, athletic events, and information sessions, will help families stay connected and involved.
Make inclusivity a priority.
Make your school's front office accessible for all students and families. This is especially important in schools with diverse populations. For example, provide important information in different languages. And, if possible, hire people who are proficient in languages that match your school's needs. Thoughtfully plan school events that are broad enough to welcome families outside of the stereotypical norm. And when scheduling those events, keep in mind that many adults in your students' lives have less flexible or nontraditional work schedules.
How do you ensure that your front office sets the tone for your community? Come share your tips and ideas in our Principal Life Facebook group.
Also, check out A Principal's Guide to Hiring School Support Staff: What to Ask and Why.